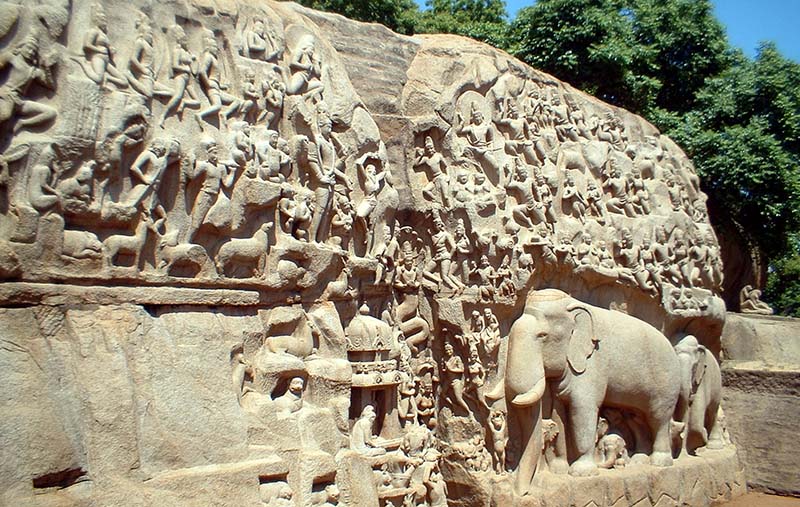 The stone seemed alive with elephants, snakes, gods, goddesses, cats, mice and hundreds more fascinating creatures from Hindu folklore. They were inside the world's largest bas relief sculpture, more than 88 feet wide and 30 feet high. What made the enormous stone carving even more amazing was the fact it was 1400 years old.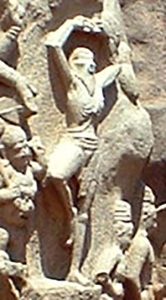 The sculpture, known as Arjuna's Penance, illustrates an ancient Indian flood myth. Similar to Noah, its central character is Arjuna, who did penance to the Lord Shiva and thereby prevented the world from being inundated when the river Ganges descended from Heaven. Looking at this stone carving was like playing a three-dimensional "Where's Waldo" game, but I finally identified Arjuna, standing on one foot with his arms outstretched above his head.
I was in the seaside village of Mamallapuram (also called Mahabalipuram) on the Bay of Bengal, about 60 kilometers south of Chennai (formerly Madras) in the south Indian state of Tamil Nadu. My guide, knowing I wanted to take pictures of the famous stone carving, took me straight to Arjuna's Penance before we stopped for lunch. A few hours later, the details would have been obscured by afternoon shadows.
A UNESCO World Heritage Site, Mamallapuram boasts at least 30 monumental stone works of art. More than thirteen centuries ago, during the reign of King Narasimha Varman I, (630 – 668 A.D.) outcroppings of stone dotting the landscape were painstakingly shaped into temples, caves and other fantastic structures.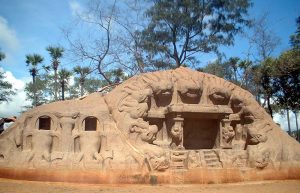 About four kilometers north of town is a sculpture called the Tiger Cave, although it's not really a cave, and it has nothing to do with tigers.
It's actually an amphitheater fashioned from a single giant boulder. Surrounding the hollowed-out stage are nine carvings of mythological animals known as yalis.
In the 19th century, when India was being colonized, British explorers incorrectly identified the yalis as tigers, and the name has remained. I was there on a hot, sunny day when the area was filled with families enjoying a day at the beach.
Four schoolgirls, neatly dressed in blue and white uniforms, waited politely while I took pictures. When I finished, they ran, giggling, into the cool shade of the cave.
Although there is no admission fee for Arjuna's Penance and the Tiger Cave, a 250 rupee ticket (about $7.00 Canadian) is required to visit the two most important stone carving sites, the Five Rathas and the Shore Temple.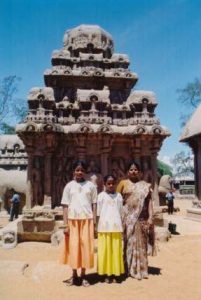 Ratha means "chariot," but the Five Rathas reminded me of a gigantic sandcastle display, except that the fairytale structures were intricately hand-carved from solid rock, some of them soaring several stories tall. It was a national holiday, Gandhi's birthday, and busloads of children, swarmed around the sculptures.
The air was cooler at the Shore Temple, where a light breeze was blowing off the Bay of Bengal. Once ocean waves had lapped directly against the temple, and some of the intricate detail work became eroded, so a stone jetty was built, re-locating the shoreline several meters farther east, and protecting the ancient carvings from further damage.
If you're up on your Hindu symbolism, you'll know that the row of stone bulls outside the temple identify the shrine as devoted to Lord Shiva.
As I walked through the town, I realized that rock carvings are just one aspect of Mamallapuram's many charms.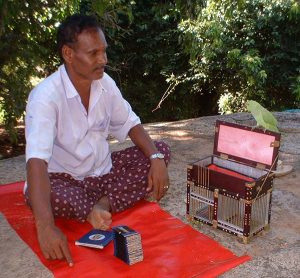 A woman offered to read my palm. A trio of goats browsed among the shrubbery. A small green parrot assisted a fortune-teller by picking cards out of a deck. Little girls splashed under a lawn sprinkler. A group of teenage boys asked me to pose in a picture with them.
Everywhere vendors were selling stone carvings. There is a Government School of Sculpture in town, and — especially if you're a tall white guy with a camera around your neck — it's hard to avoid hawkers offering you locally made miniature stone dancing Shivas or elephant-headed Ganesh statues.
There was a tree-lined path leading from my hotel, the Sea Breeze, to a long, sandy beach and the Bay of Bengal. As I walked, the silhouette of the Shore Temple appeared a few hundred meters to the right.
Nearing the water, I noticed that the beach was lined with what looked like driftwood logs. Strangely, the logs were roped together in pairs, and they had metal plates were bolted onto them.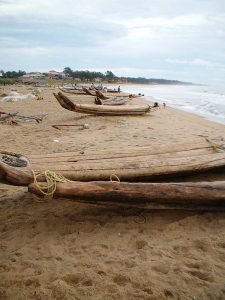 Finally it dawned on me that these "logs" were actually boats. At the shoreline four men were balancing on one of the motorized log rafts as it headed into the surf. I later learned they are called kattumarans, the word from which catamaran is derived.
In the Tamil language, kattu-maran means bound logs. They may be the most primitive and dangerous-looking craft imaginable, but obviously they are effective. There was an abundance of seafood — grilled, fried, curried and tandoori — on the menus of Mamallapuram's many restaurants.
Several months after my visit, Mamallapuram was struck by one of the worst natural disasters in recent history. On December 26, 2004, a 9.15 magnitude earthquake in the Indian Ocean created a tsunami that killed more than 283,000 people in 15 countries, and it washed right over the beach where I had stood.
In the spring of 2005, I managed to contact an India Tourism official who reassured me that Mamallapuram "returned to normalcy soon after the tsunami disaster," and that the Hotel Sea Breeze was again functioning normally.
Moreover, there was actually a positive result caused by the tsunami. The tidal wave scoured away enough sand from the beach at Mamallapuram to reveal another ancient stone temple that had been buried for hundreds of years.
As of this writing, a team of archaeologists is in the process of investigating this "new" Shore Temple.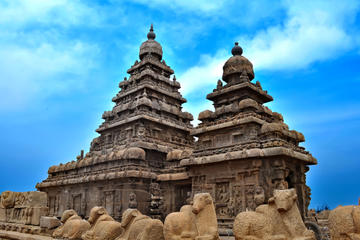 Private Cultural Tour: Day Trip to Mahabalipuram and Dakshinachitra from Chennai – $73.75
from: Viator
Photos © Robert Scheer:
Figures from Hindu mythology are carved into Arjuna's Penance, the world's largest bas relief sculpture
Mamallapuram "Tiger Cave"
A family from Chennai (formerly Madras) poses in front of one of the Five Rathas
A small green parrot assists a fortune teller by picking cards out of a deck
Kattumaran boats on the shore