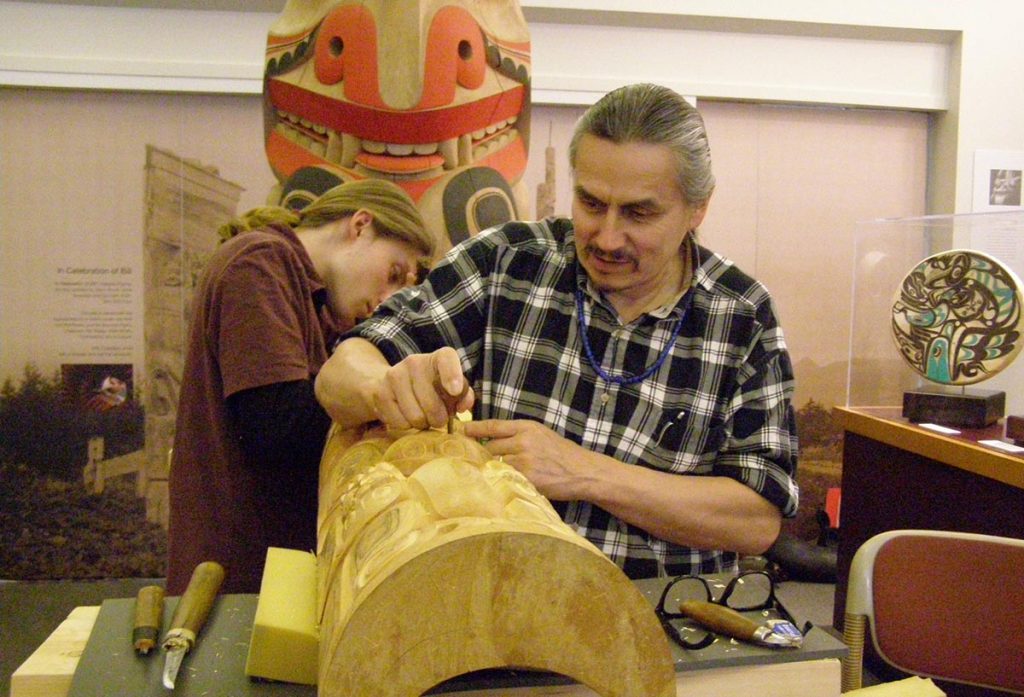 I watched in fascination as the two men carved away slivers of wood from the pole. Stylized figures of animals and humans were beginning to emerge from the yellow cedar log, and their style was clearly Haida. The distinctive aboriginal art imagery from Haida Gwaii (formerly the Queen Charlotte Islands) is familiar to anyone who has examined a Canadian $20 bill and marveled at the late Bill Reid's iconic sculptures immortalized on the back. Now I was in the gallery devoted to Canada's most famous First Nations artist.
The Bill Reid Gallery of Northwest Coast Art is located in the heart of downtown, a mere block from the Vancouver Art Gallery, and it not only displays jewelry, sculptures, paintings and drawings by Reid, but also other native artists who influenced or were inspired by his work. It opened in May, 2008.
The two men working on the pole were James Hart and his son, Carl. The elder Hart was one of the carvers who assisted Bill Reid when he made The Raven and the First Men, a three-dimensional dramatization of the Haida creation myth in which the first humans are seen emerging from a clam shell.
Bill Reid's widow, Martine, was in the gallery the day I visited, and she graciously offered to show me around.
"This was the first sculpture he ever made." She pointed to a tiny pink teapot and two cups. "He was 12. He carved them from school chalk, painted them with fingernail polish and gave them to his sister. She kept them in a matchbox."
We sat on a couch in the back of the museum and I asked which of Bill's sculptures might have been the most important. She said it was probably Lootaas, the 50-foot canoe he carved from a single red cedar trunk for Expo 86. Three years later, Bill and 20 other Haida paddled it up the Seine in Paris, where an exhibition of his work was presented at the Museum of Man.
She told me she thought Lootaas led him to make The Spirit of Haida Gwaii, the legendary "Jade Canoe" on display at Vancouver International Airport. If he had not focused so much energy on the real canoe, he might never have been inspired to create the mythological one.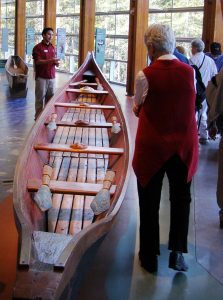 Another First Nations attraction that also opened in 2008 is the Squamish Lil'wat Cultural Centre. Situated between the villages of Whistler and Blackcomb, about a 2-1/2 hour drive from Vancouver, it was co-created by the two nations whose territories have overlapped in the Whistler Valley since time immemorial.
After being greeted by ceremonial drummers and watching a short film, "Where Rivers, Mountains and People meet," I stepped into a great hall dominated by a giant canoe. Our guide, Levi Nelson, said the 40-foot Salish hunting canoe, carved from a single cedar tree, will be taken from the hall every year for an ocean journey to honour its spirit.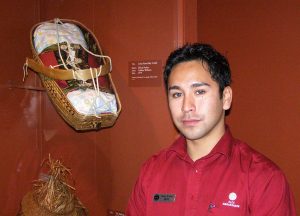 In an upstairs gallery, Levi explained how tree bark, roots, deerskin and mountain goat wool were used to weave hats, baskets, blankets and clothing. He pointed to a baby cradle that had been crafted from cedar roots. "That's where I spent a lot of time when I was first born," he said. It was his own family cradle, made by his grandmother, Adelina Williams. These items behind the glass of display cases, I realized, were not simply museum artifacts, but treasured family keepsakes, lovingly fashioned and now being shared with visitors from around the world.
In the centre's café my companion and I enjoyed a casual lunch. While we savored Squamish salmon chowder, Lil'wat venison chili and golden biscuits of bannock, I started thinking about the significance of canoes. Not only did they enable northwest coast natives to thrive, they also serve as a perfect metaphor for humankind. To paraphrase Bill Reid, we are all in the same boat. And when we don't paddle together, we're in danger of tipping over.
For anyone seeking an even more active experience, Takaya Tours offers paddling trips from Cates Park in North Vancouver up Indian Arm in a 25-foot traditional style ocean canoe. Owned by the Tsleil-Waututh First Nation, Takaya Tours go out every Saturday and Sunday from July 1 through August 31.
IF YOU GO:
The Bill Reid Gallery of Northwest Coast Art is at 639 Hornby Street, Vancouver. Adult admission is $10 with discounts for groups, seniors, children and families. Opening hours: 11 to 5, Wednesday through Sunday. www.billreidgallery.ca
The Squamish Lil'wat Cultural Centre at 4584 Blackcomb Way, Whistler, BC is open 9:30 to 5, Monday through Sunday. Adult admission: $18 with discounts for seniors, people with disabilities, students and children. www.slcc.ca
Takaya Tours offers canoe and kayak excursions from $55 to $65 per person, plus activities for school groups. www.takayatours.com
Discover other B.C. First Nations attractions through Aboriginal Tourism BC at www.aboriginalbc.com.
Travel Writers' Tales is an independent travel article syndicate that offers professionally written travel articles to newspaper editors and publishers. To check out more, visit www.travelwriterstales.com
Photos by Robert Scheer
James Hart (foreground) and his son, Carl, carve a pole in the Bill Reid Gallery of Northwest Coast Art in Vancouver.
A 40-foot Salish hunting canoe is removed from display and taken on an annual ocean journey to honour its spirit.
Levi Nelson and his own cedar root baby cradle at the Squamish Lil'wat Cultural Centre in Whistler.