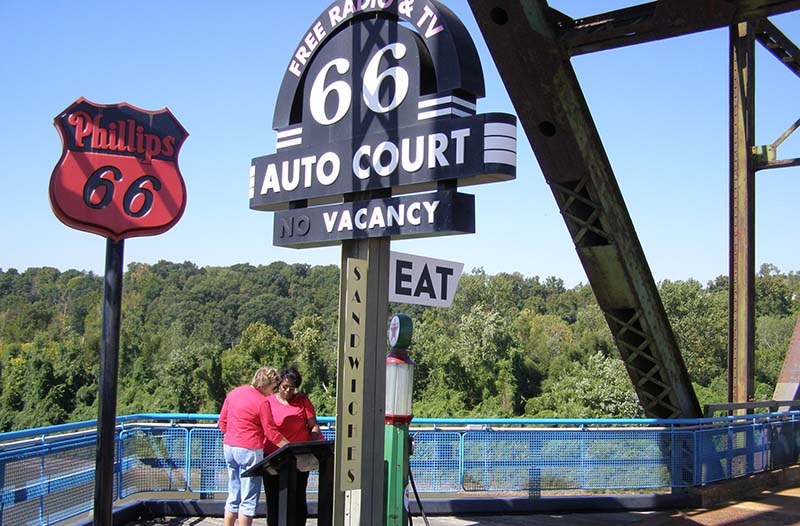 It happened more than 60 years ago, when Bobby and Cynthia Troup were driving to California. Bobby was a composer and musician, and his wife suggested he write a song about the trip. Before the day was over, "Get your kicks on Route 66" had been born.
I learned that history lesson at Route 66 State Park in Eureka, Missouri, about 30 miles west of St. Louis. Housed in a former depression-era restaurant and roadhouse, the park's Visitor Center includes a museum that's the final resting place for nostalgic mementos of when Route 66 was the Main Street of America.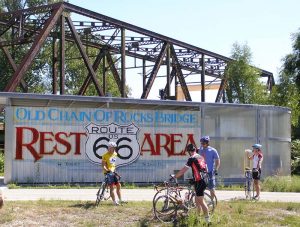 My St. Louis visit began with a walk across the original Route 66 bridge spanning the Mississippi River. The mile-long bridge opened in 1929 with a 5-cent toll to drive from Illinois to Missouri. Today, the Old Chain of Rocks Bridge is open on weekends from April through November as a hiking and biking trail, decorated with Route 66 motel and gas station signs.
I was very pleasantly surprised by both the variety and quality of the attractions, restaurants and entertainment St. Louis has to offer, and I wish my stay had been longer.
High atop my "want to go back" list is Grant's Farm. Although it flies the Anheuser-Busch flag, you shouldn't confuse Grant's Farm with a theme park. This ancestral home of the Busch family combines the best qualities of a museum, zoo and historic site.
Luckily, I had Bill, an expert guide, to show me highlights of the 281-acre property. We stopped at a two-storey log cabin built by hand in 1855 by Ulysses S. Grant, who became the 18th U.S. President. Authentic Conestoga wagons and Civil War Gatling guns flanked the building, fronted by a fence made with 2,563 barrels from Civil War rifles.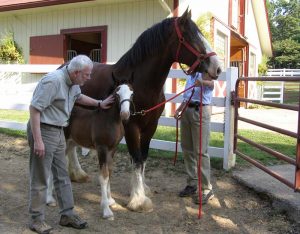 There are more than 1,000 animals on the farm, including a sizeable herd of bison, but I was most impressed by the Ankole and Clydesdales. With horns that would humble a Texas longhorn, Ankole cattle, native to central Africa, are descended from extinct Aurochs. I viewed them from the safety of our truck, but I was able to get closer to the Clydesdales. Grant's Farm is the breeding and training center for the famous Budweiser draft horses. At the stables, I was introduced to Matt, a gentle 13-year-old who regularly gets trucked to Los Angeles to star in TV beer commercials. I even got to pat young Kayla, a baby Clydesdale.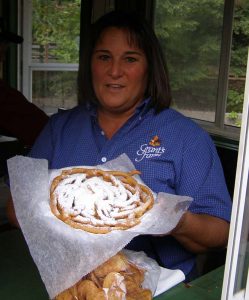 Somewhere between the giant tortoises and the bald eagles, I stopped to sample funnel cake. Like a large, tangled doughnut, it's made by pouring dough through a funnel into a deep fryer before it's topped with icing sugar.
In retrospect, many of my St. Louis memories involve luscious junk food. I devoured toasted ravioli, Gooey Butter Cake and legendary Ted Drewes frozen custard. The pound of chocolate fudge I brought home was my souvenir of Meramec Caverns, the oldest attraction along Route 66. The cave was once a hideout for the notorious outlaws Frank and Jesse James.
In 1874, the James gang had robbed a train in Gads Hill, Missouri, but a sheriff and his posse were hot on their trail.
Frank and Jesse knew of a cave not far away that had been used for gunpowder storage during the Civil Way, and they rode straight for it, carrying their loot in a locked strongbox.
Rather than walking into an ambush, the sheriff and his posse waited in siege for three days. Eventually, they went in only to find an empty strongbox and the outlaws' abandoned horses. Obviously Jessee and his brother had discovered a secret exit.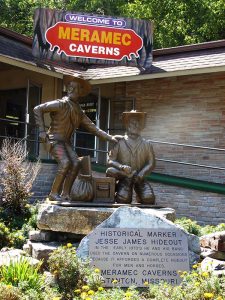 The Meramec Caverns are not only a small museum of American history, they also helped make history. After the property was opened to the public in 1933, the owner, Lester Dill, taught his 11-year old daughter to put small advertising pamphlets on the rear bumpers of visiting cars, and in the process invented the world's first bumper stickers! A pioneering showman, Dill is quoted as having said "I've put more people underground and brought them out alive than anyone else."
This historic cave complex is one of the more popular day trips from St. Louis, being located in Stanton, Missouri, about an hour's drive southwest of the Gateway Arch.
If you go on the 80-minute walking tour through the limestone grotto, you will see another historic spot where Kate Smith once sang "God Bless America." At this writing, tour prices are $19.50 per adult and $9.75 for children 5 to 11.
Cave hiking works up an appetite, so you may want to have some lunch at the cave's dining room after your walk. We enjoyed deep-fried Mississippi River catfish and hushpuppies as we chowed down under the watchful portraits of Buffalo Bill, Calamity Jane, and, of course, Jesse James himself.
Practically synonymous with blues music, St. Louis is the birthplace of such luminaries as Scott Joplin, Chuck Berry and Tina Turner. I visited BB's Jazz Blues and Soups, located in a restored 19th century hotel and former brothel. The music was great, but after one beer, the cigarette smoke drove me out for fresh air, and back to my hotel room for one last slice of Gooey Butter Cake.
For more information:
Grant's Farm website.
Meramec Caverns website.
Photos © Robert Scheer
Update: I visited Saint Louis, Missouri as a guest of the St. Louis Convention and Visitors Commission in the Summer of 2007, and this article was originally published in April, 2008, so the descriptions above may no longer be accurate.