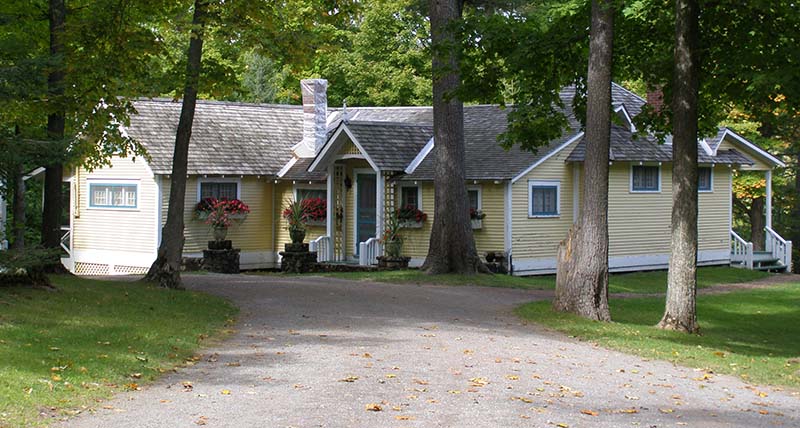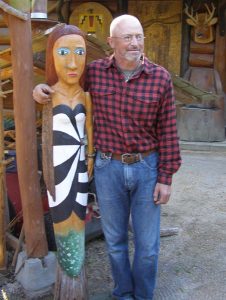 I was startled to realize that the woman in the striped dress was a mermaid. Then I chuckled when I noticed her right arm was a bird's wing. "She's Birdfishwoman," her creator told me. I was at the home of Russ Zeitz, a log house builder who is also noted for his whimsical wood carvings. Born in Saskatchewan, he studied log building in Prince George, BC before moving to Wakefield, QC. Russ is one of 22 artists in the Outaouais region of Quebec who open their workshops to the public for two weekends every year. It was my first visit to the region, but I soon realized that many of the people who live here are as colourful as the autumn leaves that attract tourists from all around the world.
A short drive down the road, I stopped for a snack at the Chelsea Smokehouse and met Line Boyer, whose hair was nearly as red as the salmon she was slicing. Line and her partner took over the 25-year-old family business in 2008, and the artisan-style tuna, salmon, oysters and scallops they smoke are served at some of the finest restaurants in the area. But she confessed that their business almost failed soon after they acquired it. "The problem was maple wood sawdust," Line told me. "The only source we had was too far away and too expensive." It was one of her customers who offered the solution. He knew that the first maple wood baseball bat approved for the Major Leagues, the Sam Bat, was manufactured in Ottawa, Ontario, only about 20 kilometers away. Shortly after the Chelsea Smokehouse team contacted the Original Maple Bat Corporation, they had all the fragrant sawdust they needed.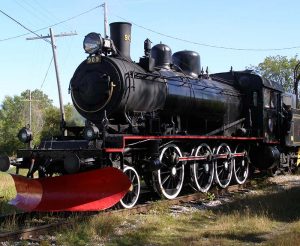 The drive from Ottawa only takes about 20 minutes by car, but I enjoyed a more leisurely and historical means of transportation. The Hull-Chelsea-Wakefield Steam Train is pulled by a locomotive that is more than 100 years old. One of their most popular excursions is a five-hour day trip that winds along the banks of the Gatineau River and includes a two-hour stop in the picturesque village of Wakefield. Along the way, my companions and I were entertained by live music. There were five musicians on board, playing and singing in both English and French.
I stayed overnight at the Wakefield Mill Inn, a cozy 27-room boutique hotel built in a restored, 98-year-old flour mill. On the old stone walls of the dining room were lively paintings by local artists, and on Friday and Saturday evenings there is live piano jazz.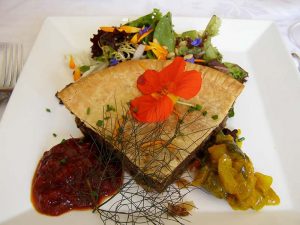 Any preconceived notions I may have had about Quebecois cuisine being heavy and unsophisticated were soon shattered. Two of the traditional French Canadian dishes I ordered turned out to be pleasant surprises. The poutine at the Hilton Lac-Leamy hotel in Gatineau was not simply fries with gravy and cheese curds but a fabulous dish that included foie gras and melted brie on roasted potato wedges, topped with a Jack Daniel's sauce. At Les Fougères in Chelsea, the menu did not even offer common tourtière stuffed with ground pork. My very satisfying caribou and cranberry tourtière came topped with a bright edible nasturtium flower.
The highlight of my trip to the Outaouais was the William Lyon Mackenzie King Estate, located in the heart of Gatineau Park. We were fortunate to have park manager Denis Messier take us on a short tour. William Lyon Mackenzie King, he told us, may have been Canada's longest serving Prime Minister, having held the office for a total of 22 years, but he always dreamed of being an architect. We strolled through the cottage King himself built in 1903 and learned that Franklin Roosevelt, Winston Churchill and Charles Lindbergh were some of his most famous visitors.
The Outaouais region's autumn leaves may look spectacular for a few weeks of the year, but its colourful people, tantalizing cuisine and historic attractions make this area of Western Quebec an enjoyable destination regardless of the season. Especially with its proximity to the nation's capital, any visitor to Ottawa with time to spare is sure to find it a rewarding journey.
If you go:
Wakefield Mill Inn and Spa , 25 minutes from Ottawa, is the only accommodation within Gatineau Park.
Hilton Lac-Leamy is a 5-star hotel adjacent to the casino on the shores of Leamy Lake in downtown Gatineau.
Les Suites Victoria  features 39 rooms and suites with cooking facilities, located near the Museum of Civilization.
The Hull-Chelsea-Wakefield Steam Train offers various excursions from early May through Late October.
The MacKenzie King Estate  is open Wednesday through Monday from mid May to mid October. Admission is $8 per car.
For more information visit www.tourismeoutaouais.com.
Photos © Robert Scheer
The cottage built in 1903 by Canada's 10th Prime Minister, William Lyon Mackenzie King
Wood carver Russ Zeitz with his "Birdfishwoman" sculpture
The Hull-Chelsea-Wakefield Steam Train is more than 100 years old
Caribou and cranberry tourtière at Les Fougères in Chelsea, is garnished with edible flowers
I visited Outaouais in 2009 in a press tour hosted by Outaouais Tourism, and the above article was originally published in April, 2010.