The Four Corners area of the USA (where Arizona, Colorado, New Mexico and Utah meet) is rich with ancient cliff-dwellings, rock art, dramatic canyon vistas and native spirits. You can experience all these features in one place if you stop at Canyon de Chelly (pronounced d'SHAY) National Monument, near Chinle, Arizona.
The canyon is in the Navajo Nation, and the Diné people (as the Navajo call themselves) carefully control access. You can drive along the canyon rim and stop at eleven different outlook points, but visitors are only allowed down into the canyon if they're accompanied by a Navajo guide – except for one place: the 2-1/2 mile trail to White House Ruin is open to the public. It's about a two hour round-trip hike to the 12th century cliff-dwelling, wedged into a crevice in a 1000 foot cliff.
Perhaps the most spiritual place in the canyon is Spider Rock, and there's an excellent view from an overlook at the end of the 16-mile South Rim Drive. Jutting 800 feet from the canyon floor, the red sandstone pillar is the legendary home of Holy Spider Woman, who taught the Navajo how to weave. It is said that Spider Woman takes naughty boys and girls to the top of the spire, and that the white specks you can see at the top of the rock are the bleached bones of children who did not obey their parents.
Local Native guides are readily available at the Visitors Center, and they'll lead you on canyon hikes, horseback or four-wheel drive vehicle tours. We enjoyed a half-day group tour in an open-air, six-wheel drive vehicle from nearby Thunderbird Lodge. We splashed through the water at the bottom of the canyons and made numerous stops to see and learn about rock art, ruins, and Navajo farms.
At Antelope House Ruin there is a left-pointing swastika, painted on the sandstone above the pueblo houses. Hundreds of years before the Nazis corrupted this ancient symbol, it represented the Wheel of Life. On a high ledge to the left of the cliff dwellings is a stunning display of pictograph paintings: human images, a rainbow, concentric circles, zig-zag lines and the herd of antelope that gives the area its name. About a dozen local artists were selling their creations here, and I enjoyed chatting with Maxine, who displayed a beautiful variety of necklaces, earrings and fetish pendants. Other artists sold beadwork, carved kachina dolls, pottery and exquisitely woven Navajo rugs, displayed on blankets spread on flat sandstone rocks, shaded by a row of cottonwood trees.
It's a pleasant, two-hour drive northwest from Canyon de Chelly to Navajo National Monument, the location of two of the most spectacular Native cliff dwellings in Arizona, but getting to the ruins from the parking lot is a major commitment. Keet Seel Ruin is only accessible by a primitive trail that requires an arduous, day-long trek. Less strenuous, although still rough going, is the five to six-hour round trip hike to Betatakin Ruin. We contented ourselves with a view of Betatakin from the opposite edge of the canyon, an easy ten or fifteen-minute stroll to a viewing platform.
Immediately behind the visitors center is a Navajo sweatlodge, a tiny mud-covered, dome-shaped hogan, fashioned around a framework of logs. Beyond it, a paved pathway meanders across the desert landscape. You walk past scrubby sage bushes and old, twisted juniper trees, and it's not uncommon to see hawks or turkey vultures soaring overhead. At the overlook, my partner and I were startled by a sudden whoosh as two ravens swooped in front of our faces. We could clearly hear the whistle of wind on their wings as they passed within inches of us, at the canyon's edge. The 135-room Betatakin village, built in an alcove with a 450-foot high arched ceiling, was just barely visible. You'll need binoculars to make out any details, as the pueblo walls were constructed from the same mocha-colored sandstone as the cliff in which they are sheltered.
It was a sunny Sunday afternoon in early April, and we were lucky to have the place all to ourselves. There was no traffic noise – the main highway is ten miles away – and the silence was profound. Maybe there are powerful spirits living in the canyon, or maybe we were simply able to attune ourselves to the natural energy, but – whatever the reason – it felt very sacred. The Navajo have a phrase, "walk in beauty", which means to be in harmony with nature. Betatakin and Canyon de Chelly are two of those rare places where you can escape from the 21st century and understand what it feels like to walk in beauty, if only for a few moments.
 This column was originally published in June, 2000.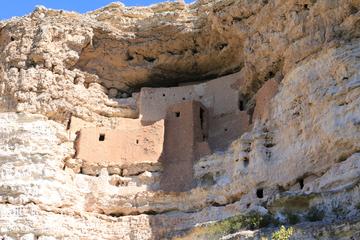 Private Tour of Five National Monuments in Arizona from Sedona