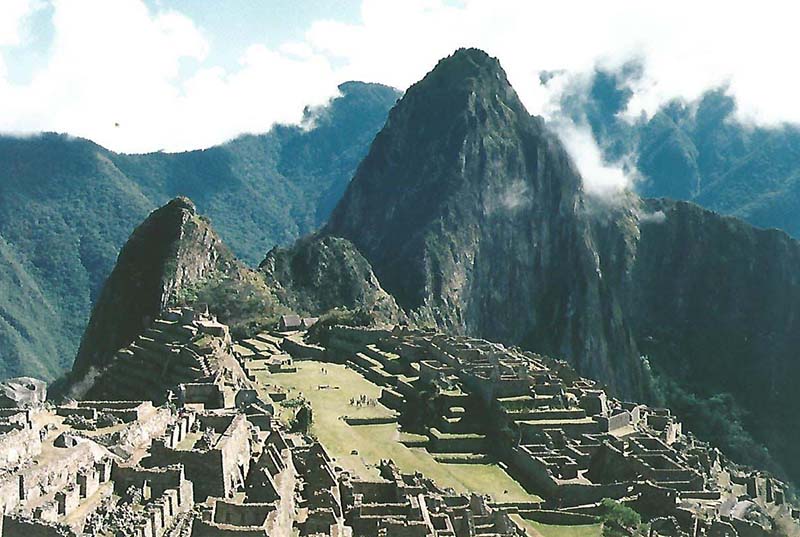 Night was falling as we got into the bus to go up to Machu Picchu. Our group of ten, usually talkative and laughing, were hushed. A sliver of a new moon hung like a halo above Apu Putu Cusi, one of the four sacred mountains that surround the Inca sanctuary. Perhaps Kucho's magic had already started.
Kucho was the Andean shaman who would be conducting our ceremony on top of Machu Picchu. We had heard an amazing story about something that happened during his apprenticeship. Kucho had been staying at Machu Picchu, meditating for six days and nights. On the morning of the sixth day, as he was looking east toward Putu Cusi, he saw a translucent silver sphere rise up out of the Urubamba River and move toward him. It surrounded him and transported him inside Putu Cusi, where he saw an astral crystal city.
Kucho was a soft-spoken man, a Quechuan native, standing about 5'8" and muscularly solid. In his bomber jacket and baseball cap, you might never have guessed he was a shaman unless you caught a flash of the intensity in his eyes, a look that communicated timeless wisdom and passion. If his apprentice, with her long blonde hair, had been carrying a guitar case instead of a lumpy bundle wrapped in a Peruvian blanket, Kucho could easily have been taken for a rock star on his way to a concert.
Machu Picchu Night Admission
Machu Picchu closes at 5:30 p.m. during the winter (our summer) season, but our tour leader had obtained special tickets for night admission. These Ingreso Nocturno tickets must be purchased in advance. Special arrangements had also been made for one of the buses to pick us up in Aguas Calientes at dusk and take us back down at 10:00 p.m.
There seemed to be an unusually lengthy debate and some strange bureaucratic ticket-stamping before we were allowed past the guards at the entrance, and I was glad that Andrea, our tour leader, spoke competent Spanish. Finally we were walking, single file, along the terrace that leads into Machu Picchu. The silver light from the moon and stars was nearly enough to illuminate our way, but we all carried small flashlights and shone them onto the rock-lined pathway. We heard the trickle of water growing louder as we reached the system of fountains that leads up to the Sun Temple. We had been told that this area was called Yakumana, or the Serpent, with the water forming the body of the snake and the Sun Temple is its head. I reached into the water, moistened my fingertips, and touched them to my forehead, wordlessly invoking the blessings of the spirits during this night of magic.
Ceremony in the Sacred Plaza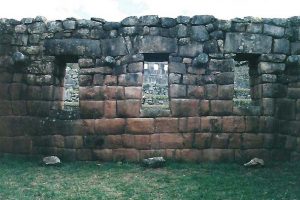 We silently made our way up past the Sun Temple and then turned right, heading toward the Sacred Plaza, where we waited as Kucho and his apprentice began setting up. During the day, a rope barricade prevents tourists from going inside the temple of the three windows, but tonight the rope was down. This temple was one of the buildings that convinced Hiram Bingham in 1911 that he had discovered the legendary Vilcabamba. The precise masonry indicated this was a place built for rulers and high priests, and the three windows symbolized the three caves from which the Ayar brothers of the Inca creation legend emerged.
Immediately west of the three-window temple, partially separating it from the Sacred Plaza, are a low Inca three-stepped cross and, alongside it, a tall, upright, altar-stone. A few feet west of the altar is the so-called Sacrificial stone, about 12-feet long. It points across the plaza to the small Southern Cross stone. We waited among these monoliths as Kucho completed his preparations. It was growing quite chilly, and I was very glad I wore long-johns and a long-sleeved thermal shirt under my sweater, Levi's and jacket. At the last minute, I had stopped at a souvenir stand near the bus stop and bought a pair of hand-knit gloves and a Peruvian chollo cap with ear-flaps. Now I was wondering if even these would keep me warm enough. Suddenly a light flashed. A candle was burning behind the altar stone, and its light shone upon a small golden sun disk, Inti, which now hung above the center of the three windows.
The Andean Shaman
As we moved into the temple, Kucho was lighting a fire in a small, round brazier on the ground in the center of the area. He poured something from a liquor bottle and the flames blazed up high for a moment. Kucho was transformed, a different person from the man we had met 30 minutes earlier. He was every inch an Andean shaman, wearing a poncho and black trousers which reached only to his knees. Despite the cold, his legs and his feet were bare. On his head was a red pointed chollo cap. Supplies which had been wrapped up in a blanket were now arranged on the ground; a conch shell, a bell, a rattle, a small bundle of wood, a glass tumbler and a gallon cooking-oil container. He held the liquor bottle up to the east, north, west and south, softly whispering prayers and pouring liquid onto the ground in each direction. He poured some onto his hands, rubbed them together, and then rubbed his face. Finally he stepped forward, seemingly noticing us for the first time.
One by one, Kucho stood before each of us and poured sweet-smelling liquor into our outstretched hands so we could repeat his actions, cleansing our hands and faces. When we had all been made ready, he told us about San Pedro.
Sacred San Pedro
"For thousands of years," he said, "my ancestors have been using the sacred plant, San Pedro, as a way into other dimensions." San Pedro is Peruvian cactus which contains the highest concentration of hallucinogenic mescaline known in any plant. Kucho explained that, although the liquid he makes from San Pedro usually takes seven hours to brew, the batch he brought in the cooking-oil can was prepared on June 21st, the winter solstice and a day of great power, so it was ready in only four hours. Before we could drink, the first glass of San Pedro was sacrificed to the spirits. Kucho poured some onto the ground to the four directions, some out the center window and some into the fire.
The shaman instructed us to exhale forcefully before drinking the San Pedro, and to drink the entire glassful at once. He demonstrated, drinking a glass himself. At last it was our turn. The liquid tasted mildly bitter but not unpleasant. When we had all taken one glass, Kucho asked us, one at a time, to move to the center window, where he performed a ceremony over us. Some of us knelt while others sat in or stood before the sacred window. Although it was now pitch dark, we knew we were facing Putu Cusi, the sacred apu of the east. Behind our backs Kucho rang a small bell seven times, once for each chakra, and then three more times, for the lower, middle and upper worlds. We were then invited to walk about the Sacred Plaza or remain in the temple, whatever we felt moved to do. And there was more San Pedro available whenever we wanted another glass.
Two or three stayed in the circle near the fire, but most of us moved out to be alone with San Pedro. I saw someone sitting, meditating on the Sacrificial rock as I walked across the plaza and stood in front of the Southern Cross rock. This diamond-shaped sculpture pointed up into the sky above Apu Machu Picchu. There were a million stars overhead, with the Milky Way clearly visible. As I stood with my neck tilted back, directly above me was the Southern Cross. Something flashed nearby — a shooting star cut through the sky a few degrees to the left! I gasped in wonder. Even if San Pedro would bring me no visions from the spirit world, I felt that this was the peak experience of my first visit to Peru. Grateful tears ran down my face.
The moon slipped behind Wayna Picchu and more shooting stars flashed across the heavens as time went by. My partner Mary tapped me on the shoulder and led me across the plaza to see a strange sight. Something in the air was shining an eerie green. It was a glow-worm or lightning bug, the first of many she marveled at that night.
From time to time, Kucho moved about us doing what I presumed was energy work. He had several large condor feathers bundled like a wing, and I stood still as he used it to whisk the air around me — above, in front, on either side and behind me his feathers whooshed. A tingle rose from the base of my spine and up my back, not a dramatic Kundalini awakening, but a small energy release nevertheless.
The Ceremony Continues
Kucho kept very busy. He poured a second glass of San Pedro for many of us, and some went back for thirds and more. From time to time, he sprinkled powder (it may have been rosin or amber) onto the fire and then whisked the aromatic smoke around with his feathers. Occasionally he added wood and sprinkled liquor to make the flames shoot high. But his most dramatic actions seemed to involve communicating with the spirits. At various times, Kucho chanted incantations, shook the rattle or blew the conch shell in different places around the three-window temple and across the Sacred Plaza. Several times he spat loudly and made aggressive, guttural "huff-huff" noises that surely kept any malevolent spirits at bay.
Despite my four layers of warm clothing, I began to get colder and colder as time passed. I realized I had been shivering and tense, so I decided I needed to loosen up. I began to dance. My free-form movements became a dance to the stars. I remembered advice some wise person had once told me, that you should always dance as though there's nobody watching you. I danced my Southern Cross dance and my Milky Way dance, continuing to gasp in wonder each time another shooting star flashed overhead.
Later, inside the temple, I was surprised by a shadow cast by the lone candle onto an ancient stone wall. The shadow was moving as I moved, but it had a pointed head with long ears. Yes, it was my own shadow. I had forgotten I was wearing a chollo cap. At that moment I realized the significance of the peculiar design for this traditional headgear — to emulate the first Incas who, according to legend, had pointed heads and long ears. Some believe the original source of this race was extra-terrestrials who landed at Lake Titicaca more than a million years ago!
By 10:00 p.m., as most of the stars had been obscured by clouds, Kucho drew the ceremony to a close by offering prayers to the four apus: Putu Cusi in the east, Wayna Picchu in the north, Bisca Chani in the west and Machu Picchu in the south, blowing the conch shell after each. His whispers were barely audible, and he spoke in the Quechuan language, reverently and with deepest respect. Finally, Kucho blessed each of us with Lake Titicaca water, anointing our faces, and telling us it will help us keep open to the light during the days to come.
Individual Visions
Of the ten of us who were privileged to be a part of this rare event, each took home something different. One participant saw visions of serpents with rainbow stripes in the colors of the Quechuan flag. Someone else saw animals in the sky. Toward the end of the evening, another member of the group was making shadow animals on an Inca stone wall with his hands.
When it was all over and we were back down in Aguas Calientes, Kucho's apprentice told us that the shaman wanted to say one final thing to us. She translated his message as he spoke in Spanish: "The San Pedro ceremony you have done tonight will help you to prepare for the big changes which will happen to the world in the next few years."
Our "Sacred Mysteries of Peru" tour was organized by Body Mind Spirit Journeys.
On the same tour, we also visited Pisac.
Kucho can sometimes be found in a small storefront shop across the railway tracks from the main plaza in Aguas Calientes, Rikuni Tours, at 123 Imperio de los Incas.
Photos by Robert Scheer
This article was originally published in Power Trips magazine