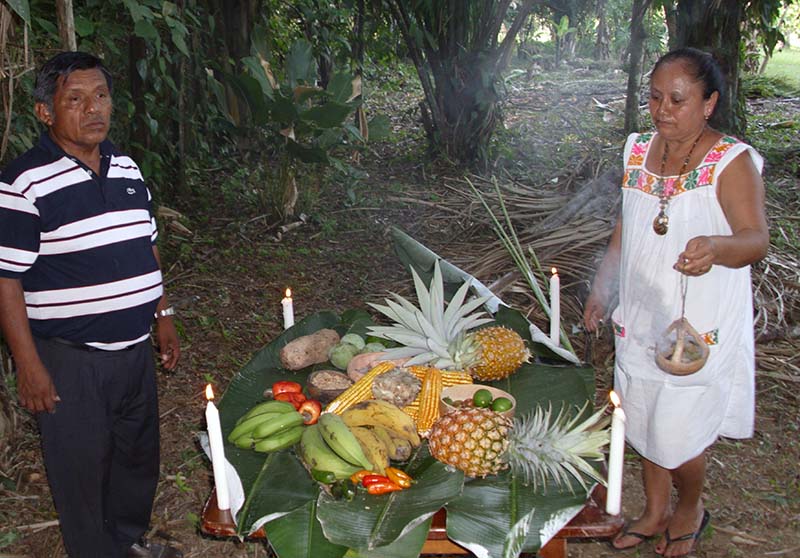 The Maya medicine woman smeared a handful of green, aromatic mud onto my forehead, binding it with a strip of cloth, as she had done on the soles of my feet and the palms of my hands. I looked like a mummy in mid-wrap. The "mud" was actually a poultice of ground cacao beans and nine medicinal herbs. Aurora had picked them fresh from her garden, and I watched as she chopped and blended them in her kitchen. She told me the treatment would draw out bad spirits and give me more energy, and I should lie down for 30 minutes while the herbs did their work.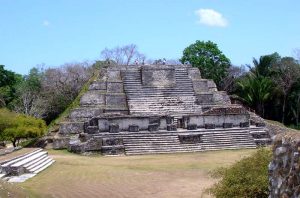 I could have used more energy a few days earlier when I was climbing up a Maya pyramid at Altun Ha. I had come to Belize to learn about the Maya. Why did the people who built such sophisticated cities more than ten centuries ago suddenly vanish from history? And what about their mysterious calendar? Does its stopping at December 21, 2012 foretell an apocalypse?
Altun Ha is one of the most popular of more than a dozen partially restored Maya archaeological sites. Its location, about an hour's drive from Belize City, makes it convenient for the 600,000 cruise ship passengers per year who visit the city.
My knees were wobbly from climbing up the Temple of the Green Tomb, so I decided not to join the column of tourists snaking their way up to the top of the Temple of the Masonry Altars. The largest pyramid at Altun Ha, it is where archaeologists from the Royal Ontario Museum in 1968 discovered Belize's most important Maya artefact, a jade head of the Sun God, Kinich Ahau. There is a drawing of the temple on the Belikin beer label, and a small picture of the jade head decorates Belizian paper money.
It was early afternoon and the cruise ship visitors had gone, leaving Altun Ha pretty much to me and my guide. "The Maya didn't disappear," he told me, "they just decided not to live in their big cities anymore." He told me that the kings, soldiers, and merchant classes were gone, but the farmers and medicine men could still be found.
One of the most famous Maya medicine men, Don Elijio Panti, lived to be 103 years old. Although he died in 1996, the 35-acre farm where he gathered his healing herbs may still be visited by the public. Ix Chel Farm, named after the Mayan Goddess of Healing, is now part of the Lodge at Chaa Creek, where I enjoyed some of the most luxurious accommodation in Central America. One of the unique features at Chaa Creek is a butterfly farm where I saw hundreds of iridescent Blue Morpho butterflies emerging from their pupa cases. The lodge is also a good place to see endangered black howler monkeys.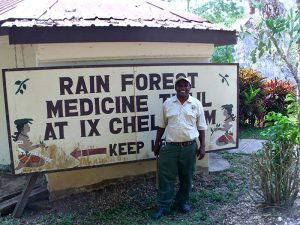 I observed three howlers sleeping in a tree on my way to Chaa Creek's Rainforest Medicine Trail, part of Don Elijio's farm, where naturalist Meshack Eliah told me about medicinal plants. "The Ceiba is a Mayan holy tree," he said. They believe it helps the spirits of the dead move from the underworld up into heaven." Another sacred tree is the copal. He cut into its bark and soon a glistening drop of resin appeared. "Copal sap is dried to make incense that is burned in ritual healing ceremonies," he said.
I got a chance to smell copal incense burning when I finally met my Mayan medicine woman. Aurora Saqui is the niece of the late Don Elijio Panti, and she learned traditional herbal medicine as his apprentice for 13 years.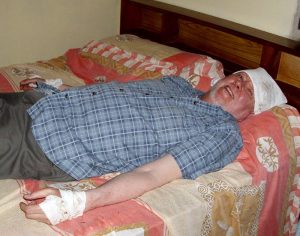 Before she gave me her herbal healing treatment I had asked Aurora whether she believed the world would end on December 21, 2012. She laughed and reassured me that life would go on, but not necessarily in the same way. "When one calendar ends, a new one starts," she said. I asked her if that means things will get better. "I hope so," she said.
As I lay, semi-mummified and smelling like chocolate spinach puree, I thought about transformations. I was hoping to emerge from the Mayan herbal wrap with more energy. A few days earlier I had witnessed Blue Morpho butterflies metamorphosizing from humble caterpillars. Will a better world emerge on the Winter Solstice of 2012? Like Aurora, I also hope so.
IF YOU GO:
Visitors in Belize City should take warnings very seriously about not walking after dark or early morning while carrying valuables. I was mugged and had my camera stolen while on a walk before breakfast in Belize City, a few blocks away from a well-known chain hotel.
Aurora and her husband Ernesto Saqui accommodate guests and operate an herbal medicine and gift shop at Nu'uk Che'il Cottages in Maya Center.
Belize's first jungle lodge, Chaa Creek has earned numerous awards as a leading Caribbean eco-resort promoting sustainable tourism.
Lascelle Tillett at S&L Tours is a highly recommended tour guide and Belize travel organizer.
All photos © Robert Scheer
I visited Belize in May, 2011 as a guest of the Belize Tourism Board, and the above article was originally published in October, 2011.