Since the beginning of time, people have been going on pilgrimages to sacred sites for healing, inspiration and guidance. Mainstream scientists may scoff at suggestions that water from holy wells can cure illnesses or that ancient megaliths can deliver messages from the spirit world, but the concept of powerful places has been known to many cultures for thousands of years.
In ancient Greece, sages built an Earth Goddess shrine at Delphi because of the abundance of plenum, an energy they believed bubbled out of the earth on the slopes of Mount Parnassus. In the Chinese tradition there is a similar life force called chi. Sufis call it baraka and Hindus know it as prana. The Hopi of Arizona say that sacred places are sites where life energy is the strongest. They refer to these power centers as "spots of the fawn."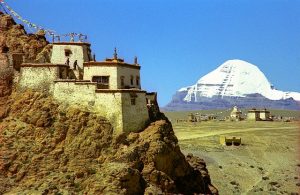 Earth's oldest known pilgrimage site is Mount Kailash in Tibet, which has been a holy travel destination for an incomprehensible 15,000 years. Walking the 32-mile trail around Kailash takes about three days, at altitudes as high as 18,000 feet. Buddhists say the ritual circumambulation washes away the sins of one lifetime, and 108 times around the mountain will enable you to reach Nirvana, or Enlightenment.
The first Christian pilgrim was Helena, mother of the emperor of Constantine, who toured the holy land in 326 c.e. and identified (not necessarily accurately) many of the sites associated with Jesus. In Medieval times, the tradition of Christian pilgrimages really began to take hold. Jerusalem was the primary goal, but pilgrims who couldn't manage the long voyage could still do penance or seek cures by visiting shrines devoted to the various saints. Canterbury Cathedral, dedicated to Saint Thomas, was England's most popular pilgrimage site, as described in Chaucer's Canterbury Tales, written in the 14th century. In Spain Santiago de Compostela, said to contain the bones of Jesus' disciple St. James, was second in popularity only to Rome as Europe's most-visited pilgrimage destination during the Middle Ages.
Today you don't have to go overseas to find places known for miracles. In Chimayó, New Mexico there is an adobe chapel, El Santuario de Chimayó, where 2,000 believers congregate each Good Friday, and 300,000 pilgrims come every year. In a small room at the back of the chapel, known as the "Room of Miracles", is a hole in the floor through which people scoop out sand, said to have curative properties. The walls of the room are lined with hundreds of letters and pictures from visitors thankful for the healing they say they received. But exactly what is it about sacred places that accounts for the extraordinary events that visitors sometimes experience?
One man who set out to understand the power of sacred places is Paul Devereux. In 1997 Devereux helped organize the Dragon Project, a group of researchers who used scientific diagnostic tools to study megalithic sites in the British Isles. In his book Places of Power: Secret Energies at Ancient Sites: A Guide to Observed or Measured Phenomena
Devereux describes finding abnormally high radiation levels in several curious stone tunnels known as fogous (FOO-goos) in the southwest of England. Devereux says this radiation is what sends some visitors into non-ordinary mental states. It is not unusual for people who go into fogous to experience headaches, dizziness, messages from spirit guides or a distorted sense of space. One artist sketching inside Carn Euny fogou suddenly became aware she was being watched by an Iron-age woman. A visitor who tried to enter Boleigh fogou said she found her path blocked by boulders which do not exist.
In the Preseli hills of Wales, where the bluestones of Stonehenge were quarried, is a mountain-top site called Carn Ingli, where Devereux took compass measurements. He discovered wild deviations in the magnetic field – in one spot his compass needle pointed due south. Devereux reported these observations to a colleague, who replied that he had gone to Carn Ingli with two friends, and all of them witnessed a vivid rainbow in the sky overhead – during the dark of night! Obviously there are more mysteries at sacred places than can be understood by taking readings with a compass or geiger counter.
If the concept of invisible earth energies with mysterious powers seems like a fantasy to you, remember that until recently it was impossible to cook food without heat or send pictures through the air. Today, microwave ovens and email are commonplace in most North American homes. Maybe in the 21st century, earth energies will be understood by establishment scientists. Until then, we can still enjoy the benefits of sacred places even if we don't understand how they work.
This article was originally published in 2000.
Chimayo photo by Donna Yuen
Mount Kailash photo by Jan Reurink licensed under the Creative Commons Attribution 2.0 Generic license.
Carn Euny photo by Frances Watts licensed under the Creative Commons Attribution-Share Alike 2.0 Generic license.