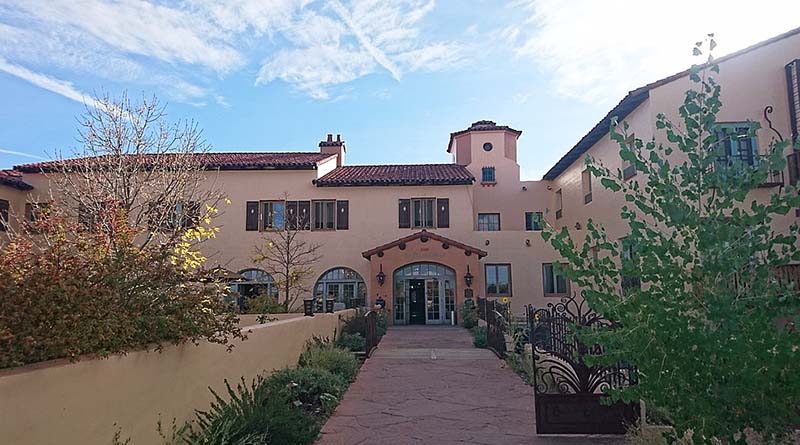 With more than a dozen prime tourist destinations nearby, it's no wonder that every Santa Fe passenger train on the route from Chicago to Los Angeles stopped in Winslow Arizona during the golden age of railway travel. To accommodate visitors eager to explore the wild west, in 1929 the Fred Harvey Company decided to build an elegant resort hotel in Winslow, across the road from the train station. La Posada was designed by Mary Colter
, the renowned architect and decorator who built more than twenty other Harvey hotels and gift shops between Kansas City and the Grand Canyon.
Before Colter started drawing the blueprints, she fantasized a fictional history for La Posada. She imagined it to be the estate of a wealthy Spanish aristocrat, built in 1779 with additions over the next 150 years. The rambling hacienda was filled with museum-quality antiques and artifacts. Of all Colter's projects, La Posada is considered to be her finest achievement. She not only designed the building but also most of its contents.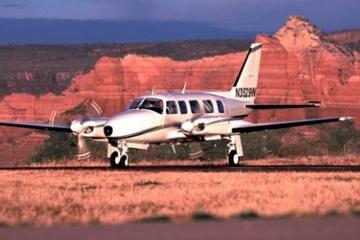 Grand Canyon National Park Aerial Tour – $286.35
from: Viator
When she couldn't locate enough of the furniture she wanted, she ordered a factory built across the street to create antique-looking reproductions. Colter even picked out the dishes for the dining room and the uniforms for the maids. Guests at the 70-room hotel included Franklin D. Roosevelt, Howard Hughes, Clark Gable, Carole Lombard, Charles Lindbergh and many more notable personalities.
As years passed, La Posada became part of the World War II effort, when its dining room served up to 3,500 soldiers a day from troop trains. But America was changing. After the war, railroad travel gave way to the automobile, and elegant accommodations were replaced by strings of motels along Route 66. La Posada closed in 1957 and its furnishings went on the auction block in Albuquerque.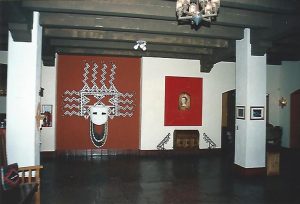 In 1996, Allan Affeldt and his wife, Tina Mion, spotted the old hotel on a list of endangered historic buildings. They purchased it and have been working since 1997 to restore La Posada to its former glory. Renovations are now about 1/3 complete*, and the hotel has 23 guest rooms open. A dining room, martini lounge and newsstand are scheduled for completion this summer, with seventeen more guest rooms to be opened in the future. Affeldt and Mion eventually plan to add a museum devoted to Mary Colter, Fred Harvey, the Santa Fe Railway and their influences on American art and architecture.
Visitors accustomed to cookie-cutter accommodations at modern chain motels and hotels will find La Posada to be a refreshing oasis. The mission-style building sports real, working wooden window shutters on warm, cream-colored walls, under a red tile roof. In the lobby, massive wooden beams soar above a dark tile floor. Floors in the guest room corridors are covered with a unique rubberized linoleum, cut to look like tile. Colorful hand-painted patterns accent the stucco bedroom walls. Bathrooms feature old-style pedestal sinks standing on original black and white checkerboard tile, with extra long tubs that are sure to please bath aficionados.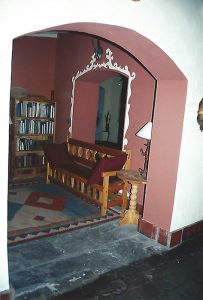 The decor of La Posada's public areas, in its 21st century reincarnation, includes an eclectic collection of paintings of U.S. first ladies by Tina Mion, along with several full-size suits of armor. You may hear the haunting sound of Gregorian chant or soothing classical guitar music drifting from a hidden stereo system.
A complimentary Continental breakfast, with juice, coffee, fresh fruit and a wide assortment of cereals and pastries, is served in an indoor cobblestone courtyard, looking out at La Posada's sunken garden. The eight-acre grounds include rose and cactus gardens and dozens of tall trees, surrounded by a high adobe wall that Mary Colter designed with portholes for imaginary guns.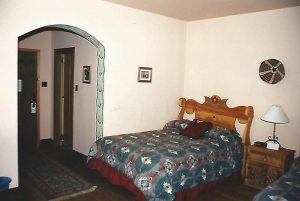 As of April 2000, the tariff for a spacious room with two double beds was a very modest $69. For an extra $20 you can stay in the "Howard Hughes Hideaway" suite. Don't be surprised if prices go higher after the restoration work has been completed.
From its beginning, La Posada has been an ideal starting point for touring the spectacular scenery and historic attractions of America's southwest. Within a day's drive from Winslow are the Grand Canyon, Petrified Forest, Painted Desert, Meteor Crater, Hopi Pueblos, Navajo National Monument, Canyon de Chelly, Montezuma Castle, Canyon Diablo, Rainbow Bridge National Monument, Sunset Crater (an extinct volcano), Wupatki National Monument (prehistoric Indian ruin), Homolovi Ruins State Park, Walnut Canyon (ancient cliff dwellings) and the 12,000 foot San Francisco Peaks.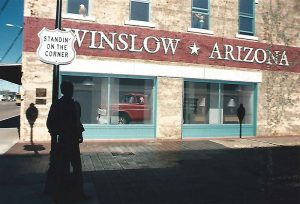 Even closer is a more modern attraction, Winslow's Standin' on a Corner Park. Winslow was immortalized in the Eagles' first hit song, "Take It Easy," written by Jackson Browne and Glen Frey. Today, visitors can have their picture taken alongside a statue of a young man with a guitar case, in front of a mural depicting a scene from the song. Did you notice the eagle in the top left window? The street corner park is located on historic Route 66, across from the Winslow police station.
Winslow is 260 miles west of Albuquerque, New Mexico, on Interstate 40, and 60 miles east of Flagstaff. Driving time from Phoenix is about three hours.
La Posada Hotel is located at 303 E. Second Street, Winslow, AZ 86047.
Phone: 520-289-4366, Fax: 520-289-3873, Email: laposada@bmol.com.
*We stayed at La Posada in 2000. The renovations are now complete.