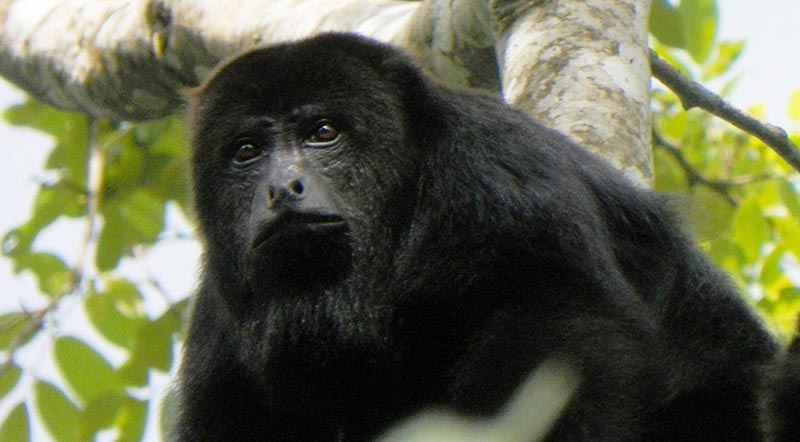 Was an enormous lion howling outside my thatched cottage? It sounded more like a T-Rex. I might have been worried if I hadn't been told earlier there was a family of howler monkeys nesting in the nearby treetops. I was in a rainforest in Belize, where I would not only see black howlers in the wild, I'd also come face to face with a live tarantula, witness a Blue Morpho butterfly emerging from its chrysalis, discover secrets of Mayan shamans, stumble upon a pair of toads mating, and devour the most delicious pancakes I'd ever enjoyed.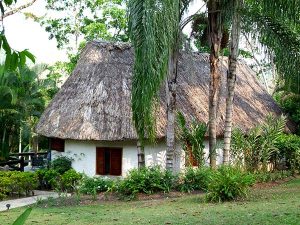 The Lodge at Chaa Creek where I was staying was Belize's first eco-lodge, and for more than ten years has been earning awards such as Condé Nast Traveler Magazine's "Best Green Hotels of the Americas" and National Geographic Adventure Magazine's "Best Adventure Travel Companies on Earth." It was not surprising to hear that Ted and Mrs. Danson had been recent guests.
The owners, Mick and Lucy Fleming, didn't set out to build the best ecolodge in the Caribbean. In 1977 they were young, low on funds, and adventurous enough to try reviving an overgrown farm on the Macal River. They picked up farming techniques from their neighbours and did well enough producing vegetables and eggs that they could bring their surplus down the river by dugout canoe to sell at the San Ignacio market. There was no road to the property until 1983, and four years later they got electricity.
As friends and others came to visit, the one-room thatched farmhouse was expanded and guest houses were added. Today Chaa Creek is a 365-acre private nature reserve. Its environmental certifications could paper a large wall, and in 2009 it became the first Green Globe Certified business in Belize.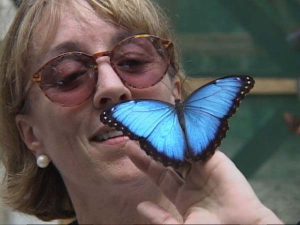 The first of their environmental accomplishments I visited was the butterfly farm. It felt truly magical to be surrounded by dozens of iridescent Belizean Blues, one of the world's largest butterflies. A precocious eight-year old guest was even more thrilled. It was her birthday, and Samantha was given a butterfly in a wood and glass display case. She was encouraged to make a wish for something good and then release the butterfly back into the jungle.
The Flemings may have evolved from farmers to innkeepers, but they still have a 33 acre organic farm that grows very fresh fruits and vegetables for their kitchen. Guests can tour the farm on horseback (or in a vehicle) and see how 2,000 year old Maya farming techniques are integrated with modern raised-bed gardening. It was a home-grown banana in my honey-drenched pancakes one morning that helped make them a memorable breakfast treat.
The resort's Rainforest Medicine Trail was once the property of Don Elijio Panti, the last Maya shaman of Belize who died in 1996 at the age of 103. It was when naturalist guide Meshak Elia took me there to learn about medicinal plants that I spotted the howlers in the trees alongside the river. The copal tree, Meshak told me, was sacred to the Maya. They would collect and dry its sap, which was burned as ceremonial incense. It was used by shamans to chase away bad spirits and attract good ones, and also as protection against the "evil eye."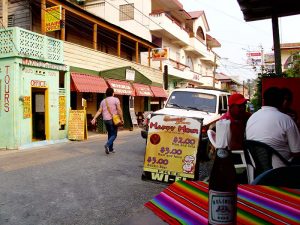 I bought a bag of copal incense the next day at the market in San Ignacio, traveling there down the Macal River in one of the Chaa Creek canoes. Canoeing is thirsty work, so I was grateful to discover Mr. Greedy's café during happy hour when cold Belikin beer was bargain priced.
That evening, I joined another small group Meshak was leading on the "Creatures of the Night" tour. Head-lamp flashlights allowed us to pick our way down a path where, in addition to the hairy tarantula and the amorous toads, we also spotted a possum, leaf-cutter ants and several bats. Kinkajous, ocelots and armadillos are sometimes seen on the tour, but it must have been their night off.
If you go:
The Lodge at Chaa Creek is located near San Ignacio, about a two hour drive from Belize International Airport. Accommodations for two start at about US$300, which includes breakfasts and some activities. Discount packages may be available at www.chaacreek.com.
For more information about traveling to Belize, visit the Belize Tourist Board website at www.belizetourism.org.
PHOTOS:
The black howler monkey is becoming increasingly rare in Belize. Photo courtesy www.chaacreek.com
Rooms at Chaa Creek are in 23 palm thatched cottages in the rainforest. Photo by Robert Scheer
Blue Morpho butterflies are raised in a farm at Chaa Creek. Photo courtesy www.chaacreek.com
Happy Hour Belikan beer at a San Ignacio, Belize cafe. San Ignacio
I visited Belize in May, 2011 as a guest of the Belize Tourism Board, and the above article was originally published in March 2012