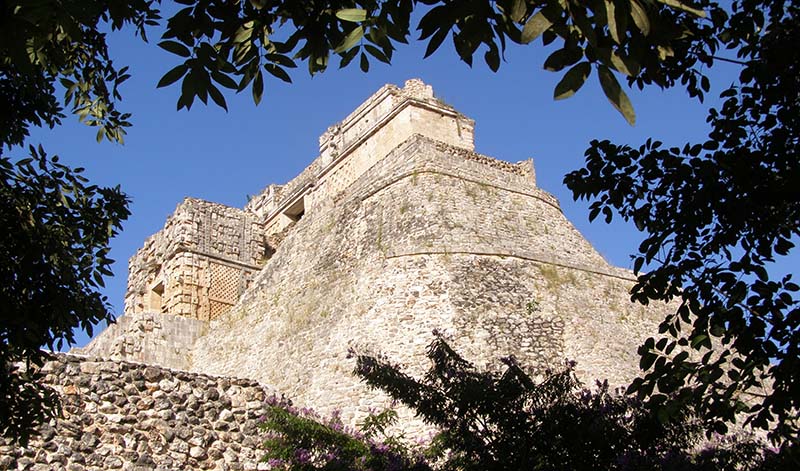 Bats flapped overhead as I made my way deeper into the cave. A rope handrail helped me navigate steep steps. The air got hotter and steamier as I descended. No wonder the Maya believed caves were the gateway to the underworld. The winding trail finally opened into a large chamber and I saw the sacred formation. The stalactites and stalagmites had merged into the shape of a giant tree, and surrounding its limestone trunk were clay pots bearing the eerie face of Tlaloc the rain god.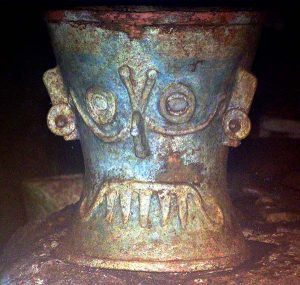 I was in the Balankanche Cave, near Chichen Itza in Mexico's Yucatan. My guide, Humberto, said the chamber had been sealed for more than 800 years until 1959 when its cache of Mayan sacrificial offerings was accidentally discovered.
Back in our air conditioned van, Humberto related how, a few days after archaeologists began exploring the cave, a group of Maya appeared and demanded to go in. They said the hiding place of the rain god had been profaned and a ritual had to be performed to purify it again. A shaman conducted an elaborate, 24-hour ceremony, after which the cave was closed. Three days later, they went back in to discover candles on the altar were miraculously still burning. The shaman declared the rain god had been appeased.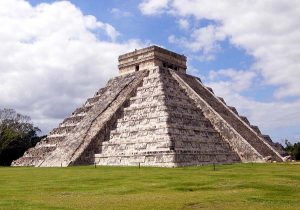 There are no lakes or rivers in Yucatan, so life depends on rainwater collected in cisterns and natural limestone sinkholes called cenotes. In ancient times it was believed the rain god lived in a sacred cenote a few kilometers west of Balankanche at Chichen Itza. The area grew into a major trading centre where, today, the pyramid El Castillo stands not only as a monument to the genius of Mayan mathematics, architecture and astronomy, but also as a UNESCO World Heritage Site and one of the "New Seven Wonders of the World." During the spring and autumn equinoxes, afternoon shadows create the illusion of a giant serpent slithering down the pyramid's stones.
I toured six different archaeological sites near Merida, Yucatan's capital city, and the rain god was everywhere. His Maya name is Chaac, and he was especially venerated at Kabah, where, on a building known as the Temple of Masks, there were 260 images of him, one for each day of the Maya calendar.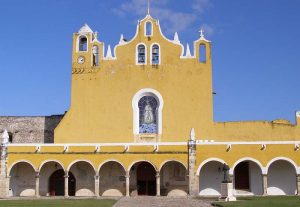 In 1542, when Francisco de Montejo of Spain conquered western Yucatan, he found Mayan pyramids to be handy sources of stone for building new Catholic churches. At the 16th Century  Convent of San Antonio de Padua in Izamal I saw Mayan carvings on some of the stones in the walls and floor.
Yucatan's Maya population has not always accepted its subjugation by Europeans and their descendants. In the village of Xochen I saw the ruins of a 500 year-old church that came under attack in 1849 during the Caste War, a conflict that continued for more than 85 years. A sign at the outskirts of Xochen warns that taking photographs within the village is forbidden. Still, I did not feel unwelcome in the Mayan church when I dropped in with my Yucatecan guide. He pointed out the stone cross at the altar. It is believed the cross was carved from an outcropping of bedrock, and the Maya consider it to be the centre of their universe.
I enjoyed nearly perfect weather during my six-day visit to Yucatan, but on my last day, when I was hoping to photograph the legendary Pyramid of the Magician at Uxmal, the sky was gray and drizzling. Rain may be a blessing for Mexican farmers but not for visitors with sunscreen on their faces and cameras in their hands. We bided our time at a nearby restaurant, enjoying a leisurely lunch of Yucatecan chicken and lime soup and barbequed pork tacos, and talking about Uxmal. According to legend, its oval-shaped pyramid was built in one night by a dwarf magician who had been hatched from an egg.
By the time we arrived at the archaeological site, the rain had stopped but sun was still obscured by clouds. I searched for a vantage point for photographing the pyramid. Up behind the Pre-Columbian Governor's Palace I waited, hopefully. Finally, at about 3:30 p.m., the golden sun burst through and illuminated the pyramid for me. I gave thanks to the rain god for his kindness.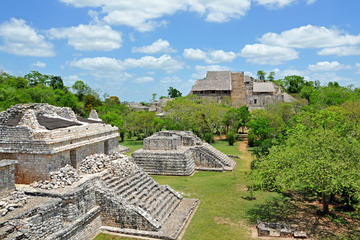 Private Tour: Chichen Itza, Ek Balam Cenote, and Tequila Factory – $110.00
from: Viator
If you go:
Hacienda Xcanatun (www.xcanatun.com), with 18 luxury suites and one of the area's finest restaurants within a restored 18th century sisal plantation, is convenient to Yucatan's many ancient Mayan sites.
Hotel El Mesón del Marques (www.mesondelmarques.com) was built in the remains of a 16th century colonial building overlooking the main square in Valladolid, Yucatan's second oldest and largest city.
For more information visit the Yucatan Tourism Board website, www.yucatan.travel.
Photos © Robert Scheer
Legend says the Pyramid of the Magician at Uxmal was built in one night by a magic dwarf
An offering to the rain god was sealed in a secret cave for 800 years
El Castillo pyramid at Chichen Itza is one of the "New Seven Wonders of the World"
The Convent of San Antonio de Padua in Izamal was built with stones taken from a Mayan pyramid
I visited Mexico's Yucatan in October, 2008 as a guest of the Mexico Tourism Board. This article was originally published in January, 2009.