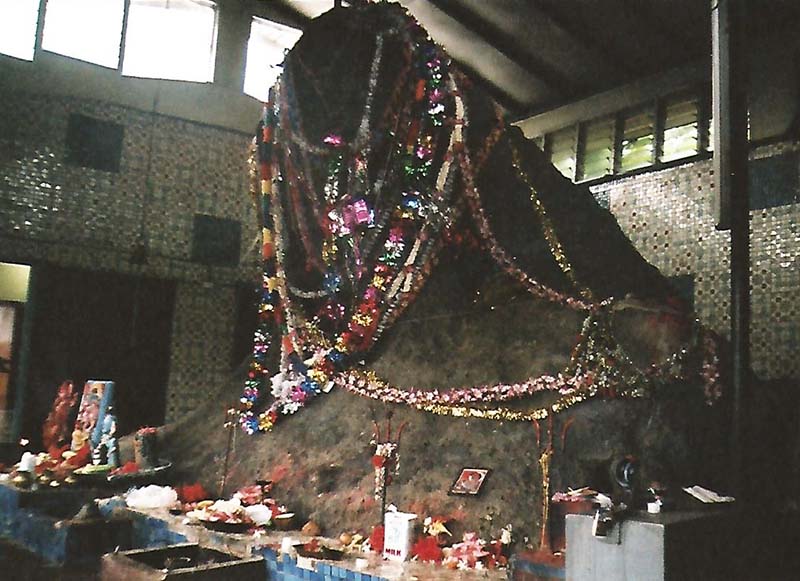 Why are stones so compelling? From gems and crystals to monoliths and mountains, we're attracted to stones wherever we turn. A woman who visited the Callanish stone circle told me the spirits of the stones manifested themselves and communicated with her. Native Americans speak of "stone people" who share Mother Earth with the two-legged and four-legged people. Studies of paranormal phenomena at stone circles and chambers suggest that stones can absorb, store and transmit energies we do not yet understand.
Whatever the reason, on a recent trip to Fiji, where there are some of the friendliest people on Earth, spectacular scenery and countless other attractions, I found myself drawn to three remarkable stones.
Secret Tribal Monolith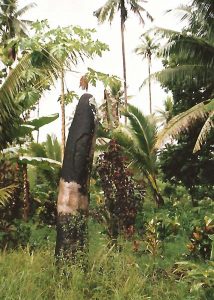 On the island of Vanua Levu is Wasavula village, with a monolith supposedly associated with a secret tribal cult. It's only a short distance from Labasa town, and the cab driver knew where to stop, but it was pouring rain when we arrived. I took off my shoes and socks, rolled up my pantlegs, covered my camera with an umbrella, and splashed up to a woman from one of the houses. My guide asked if we could please see the stone, and she led us behind her house to a very muddy garden. There it was, a cylinder about seven feet tall, rounded at the tip and leaning toward the north, looking rather like a lingam or phallic stone. There were two similar but smaller stones in the area, along with some low stone walls, but because of the rain, mud and overgrown vegetation, it was impossible to see any pattern in their layout. The old man who followed us to the stone had little to say, other than some other tourists had been there a week earlier also asking to see the stone. According to one guidebook, it was a spiritual link to earth, time, crops and fertility. It was also a refuge, where criminals being pursued could escape punishment if they reached the sanctuary of the stone.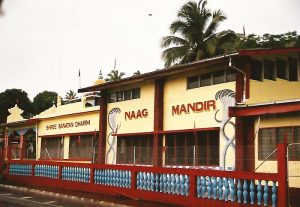 The Growing Stone
few miles north of Labasa is Naag Mandir, a Hindu temple in Nagigi village. You may enter (leaving your shoes outside) if you have consumed no alcohol nor meat that day. Inside is a huge stone shaped like a cobra and festooned with colorful garlands. On a shelf in front of the stone were offerings of incense, ghee, fruit, flowers and a box of milk. The priest told me the stone is growing. 120 years ago it was very small, but now it nearly touches the roof. Long ago, plans to build a new road called for the stone to be moved, but after all the members of the road crew got sick, they decided to re-site the road around the stone. It is also said to bring fertility. One man whose wife was childless after 20 years came to the temple and prayed, and soon afterwards his wife became pregnant. To me, the temple seemed filled with the strength and compassion of an enormously powerful spirit.
On Viti Levu, Fiji's main island, I went to Vatukacewacewa village, about 30 minutes west of Rakiraki town. We presented a ceremonial bundle of yagona (kava roots), and were invited into the home of the Chief's herald for a ceremony. After we'd each drunk two coconut shell bowls of "grog," (Kava Kava
) two villagers told stories of their ancestral gods and legends.
In the hills above the village is a stone with three holes. In olden days, visitors who didn't put offerings of leaves into the holes would become lost.
The Floating Stone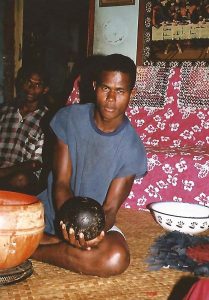 A more modern story involved two sisters who went fishing in the Wainibuka river and caught a stone that was so light it could jump like a fish. They hid the stone near the river, but a spirit visited their father and advised him to ask his daughters what they'd hidden. They eventually confessed, but when the family returned to the river, the stone's magic had been lost, and with it the good fortune the girls would have enjoyed if they'd been honest.
I thought that was the end of the story until one of the men brought out the "Floating Stone" for me to see. It was heavier than a bowling ball and nearly as large. After the last of the sisters died in 1996, the stone was taken to a museum in Suva, but was returned after it started making strange noises inside its box, banging as if it were trying to escape!
Wherever their size or location, stones are reminders of the great, unfathomable mystery. Each stone carried in a pocket, worn on a finger or hung over our heart is a fragment of our Earth Mother. Like all great mysteries, the power of stones will likely never be understood, but it cannot be denied.
Experience Fiji Tours Now Available:
Fiji Combo Day Tour Including Navua River Canoe, Fijian Village Visit, and Magic Waterfall
Spice of Life Superfood Tour: Taveuni Island Fiji
Fiji Trekking and Sightseeing Tour from Nadi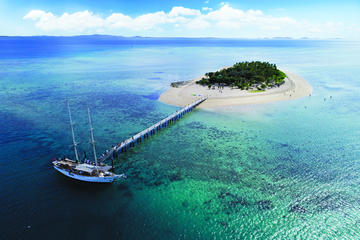 Tivua Island Day Cruise and Sunset Dinner Cruise Combo in Fiji

Photos © Robert Scheer
Offerings are placed before the Growing Stone in the Naag Mandir Hindu temple in Nagigi, Fiji
Monolith in Wasavula village on Vanua Levu, Fiji
Naag Mandir Hindu temple in Nagigi, Fiji
Beqa Maraivalu told the story about the Floating Stone he is holding
I visited Fiji in December, 2000 on a press trip hosted by the Fiji Visitors Bureau.