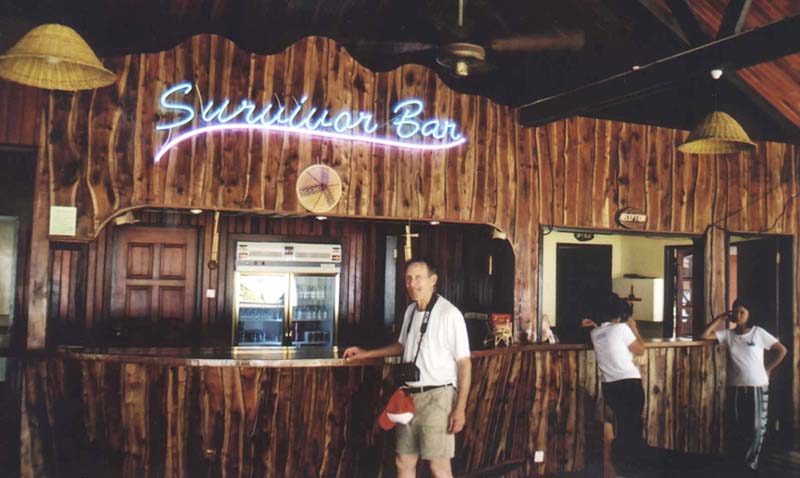 PULAU TIGA, Malaysia – Producers of the hit TV series Survivor worked hard to make the location of their game show seem more remote than it really is. The island of Pulau Tiga is actually part of a state park that's equipped with a new, 41-cabin resort and diving center, nine miles from the mainland of Sabah, Malaysia.
While the 16 Survivor contestants foraged for food and built their own shelters, the program's 130 crew members enjoyed the accommodations of the Pulau Tiga Resort, which opened for business in March, 1999. The resort's "Survivor" bar and buffet restaurant were open seven days a week, serving Malay, Chinese and Western style meals and a full range of cold beverages to off-duty cameramen, grips, gaffers and other production staff for nearly two months. "We had four shifts of cooks working 24-hours a day," said Loreta Gundaya, the resort's food services supervisor. "We had to hire 30 extra people."
Only one contestant ever dined in the restaurant. As a reward for winning one of the games, Kelly Wiglesworth was led in, blindfolded, before she enjoyed a plate of noodles and a bottle of Budweiser Light. "After wolfing down the first helping, she wanted more, so I brought her a bigger plate of noodles," Loreta said. "Then she had a third helping and another bottle of beer!"
The resort staff catered one very unusual meal to the contestants, though. As part of one of the games, Pulau Tiga Resort manager Terence Lim helped bring in 100 grub-like bugs for the contestants to eat. The butuds — a kind of caterpillar — are not native to Pulau Tiga, but can be found in Sago palm trees near Kota Kinabalu on the mainland. "In the old days they were considered a delicacy," Terence said, "but not very many people eat them anymore."
"We experimented with different ways to cook the bugs, but the TV people finally decided it would be more dramatic to eat them raw, "Terence said. "We had to eat them first, just to prove they weren't toxic."
Before games such as "In From The Deep," "Choose Your Weapon" or "Treasure Island Relay" were played by the competitors, TV crewmembers and resort staff would try them out first, to make sure they weren't too easy or too hard. The Malaysian natives beat the Americans most of the time.
Although the locals knew a lot about the plants and animals on Pulau Tiga, Survivor Executive Producer Mark Burnett proved to be an expert on how the show's contestants would behave. When Burnett and Terence Lim were scouting the island for locations, Lim pointed out that an edible fruit, known as the Indian Almond, was plentiful on both the Tagi and Pagong beaches. "Don't tell them," Burnett said. "Keep quiet." He wanted the participants to find the food for themselves, but they never did, despite the fact that the green, walnut-sized fruit grows prolifically on trees under which the tribes built their shelters.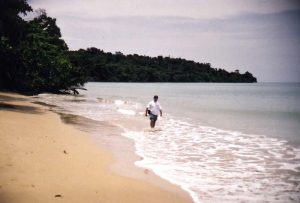 The Tagi and Pagong tribes were named after actual beaches on Pulau Tiga. But the Tagi tribe was not actually situated on Tagi Beach, because the TV cameras would have picked up too much boat traffic in the background. Instead, the more isolated Ramis Beach was chosen to be the home to Richard Hatch and his fellow castaways.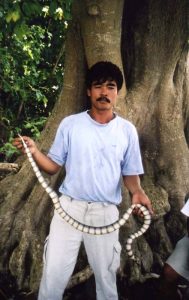 Pulau Tiga Park includes three islands, all of which were used as locations for Survivor. The bulk of the production took place on Pulau Tiga, but some of the games were staged on smaller Pulau Kalampunian Damit (Snake Island) and Pulau Kalampunian Besar (Sandbank Island). Snake Island is named for its large population of Banded Sea Kraits, poisonous vipers that rest among rocks and tree roots during the day and swim back into the ocean at night. Although their venom is deadly — one bite can kill a person in less than an hour — the snakes have relatively small mouths and are also very timid. They're only a problem if stepped on or handled carelessly. When the Survivor script called for a contestant to come ashore on Snake Island and pick up an idol from among a cluster of vipers, two Park Rangers — expert snake handlers — were positioned just out of camera range, for safety's sake.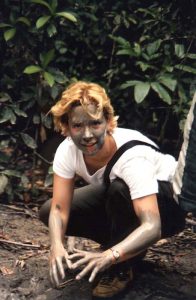 Life on Pulau Tiga is much quieter now that Richard has received his million dollar prize for being the final Survivor, but many souvenirs from the top-rated television show remain for visitors to enjoy. On the walls of the music room in Pulau Tiga Resort hang some of the original bamboo torches that represented the lives of the contestants. Visit Ramis Beach and you'll see part of a bamboo raft, as well as the remnants of a shelter used by Tagi tribespeople. Perhaps most significant is the Tribal Council area, still largely intact near the Park Ranger Station. From there it's a fifteen minute walk through the jungle to a mud volcano, where the last major eruption happened in 1941.
Birdwatchers visit Pulau Tiga in hopes of sighting the magnificent black and white Pied Hornbills, chicken-like Megapodes, Nitejars, Magpie-Robins, Bulbuls, Sunbirds, Rollers and Sea Eagles. Orange-brown Flying Fox bats roost among the mangroves and Long-tailed Macaques make a racket in the coconut palms. Easier to spot are the reptiles. Golden Skinks and Monitor Lizards frequent the trails and Barking Geckos make strange noises among the cabins. Although nearly ten miles of hiking trails crisscross the island, more than 60 per-cent of its jungle remains untouched.
Most visitors to Pulau Tiga start their journey in the capitol of Malaysia's Sabah state, Kota Kinabalu. From there it's a two-hour drive to Kula Penu, a small town on the tip of the Klias Peninsula. Near the ferry landing, you'll be met by a speedboat from Pulau Tiga Resort for the 30-minute ride to the island. 86 people can be accommodated on the resort. There are six one-bedroom and two two-bedroom chalets, all with air conditioning, private bathrooms and hot showers. A further 23 one-bedroom chalets have ceiling fans and private bathrooms but no hot water, and there are two five-room longhouses also with ceiling fans and private bathrooms. Rates range from 170 to 340 Malaysian Ringgit (US$44.75 to 89.50) per day. [PRICES IN 2000] The Dive Centre is equipped with 15 complete SCUBA sets. Snorkeling, volley ball and beach soccer are also available. For more information contact Pulau Tiga Resort. Tel: (6088) 240584. E-mail: pultiga@tm.net.my. Website: https://www.sdclodges.com/.
Tours may also be arranged through Rafflesia Tours and Travel, Kota Kinabalu. Tel: (6088) 259612, or Tourism Malaysia 088-2488698. E-mail: logi@tourism.gov.my.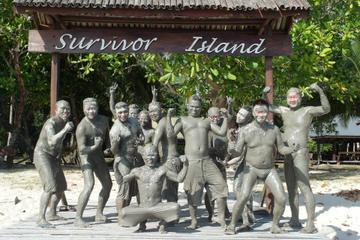 2-Day Pulau Tiga Island Tour from Kota Kinabalu – $332.00
from: Viator
Photos by Robert Scheer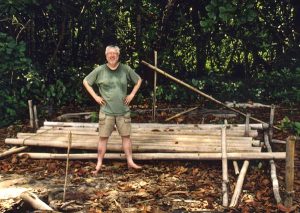 I visited Pulau Tiga in Malaysian Borneo in the summer of 2000, as one of the first group of travel journalists to explore the island after the production of the first episode of Survivor wrapped. As you can see in the photo, I was drenched with sweat. Pulau Tiga was one of the hottest, most humid places I have ever experienced. In exploring the island, there was still debris left over from the reality TV show, including a few remains of the Tribal Council area. On the same press trip, organized by Tourism Malaysia, I also visited a headhunter village and saw a longhouse where human skulls hung from the ceiling, and got a lesson on shooting poison darts with a blowgun. You can read about it on another page of this blog.
The above article was originally published in the October 11, 2000 Vancouver Province and several other Canadian newspapers. I suspect Pulau Tiga is quite a different place today (February, 2019).