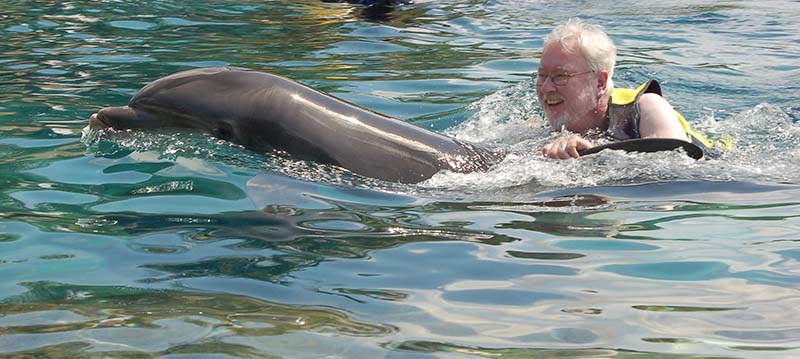 Discovery Cove in Orlando, Florida, is an all-inclusive getaway that truly is a world all its own. Unlike so many theme parks where you have to deal with large crowds and long line-ups, Discovery Cove limits its attendance ensuring a more relaxing experience for its lucky visitors. Because I had registered for the Dolphin Swim, I was given a specific time to be at my appointed beach, and I had the rest of the day to take advantage of the other attractions.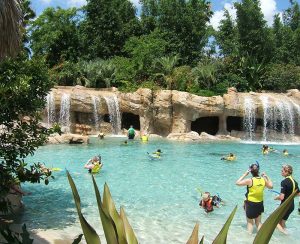 I waded among amazing varieties of stingrays, one of which had a tail that was more than six feet long. I snorkeled around colorful angel fish, silly-looking groupers and too many other varieties to list. It was as if I were in an enormous aquarium.
Part of the all-inclusive admission included not only a delicious lunch of pesto salmon, stir fry veggies, red potato cubes and key lime pie, but also several very tasty varieties of Budweiser beer. Discovery Cove, after all, is part of the Anheuser-Busch family.
When it was finally time for my dolphin swim, I was provided with a swim vest that was like a sleeveless wet-suit, and listened carefully as my group was given instructions by a naturalist trainer. One by one, we were introduced to one of the Atlantic bottlenose dolphins. My dolphin, named Scarlet, didn't look her age of 27. I later learned that she was the dominant female in the group. She didn't seem to mind when I grabbed on to her dorsal fin and hung on as she raced into the deeper water. It was the ride of my life! But what happened next was even more amazing.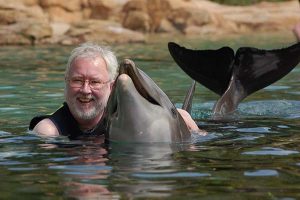 When we got back to the shallows, the trainer asked me to hold out my arms for Scarlet to lie on them. But a moment later she rolled over and gave me a big hug. Lynn, her trainer, said she had never seen that happen before. Scarlet must have really liked me!
The Discovery Cove experience is not cheap. A check of admission prices on their website in June, 2012 showed a per person range of between $229 and $359, depending on the date. That is for the package that includes the Dolphin Swim. It's less without the 30-minute dolphin experience, but my swim with Scarlet was a memory I shall never forget.
I visited Discovery Cove on a media trip in the summer of 2007 as a guest of the Tampa Bay Convention & Visitors Bureau and the The Orlando/Orange County Convention & Visitors Bureau. On the same tour, I also went on an "African Safari."