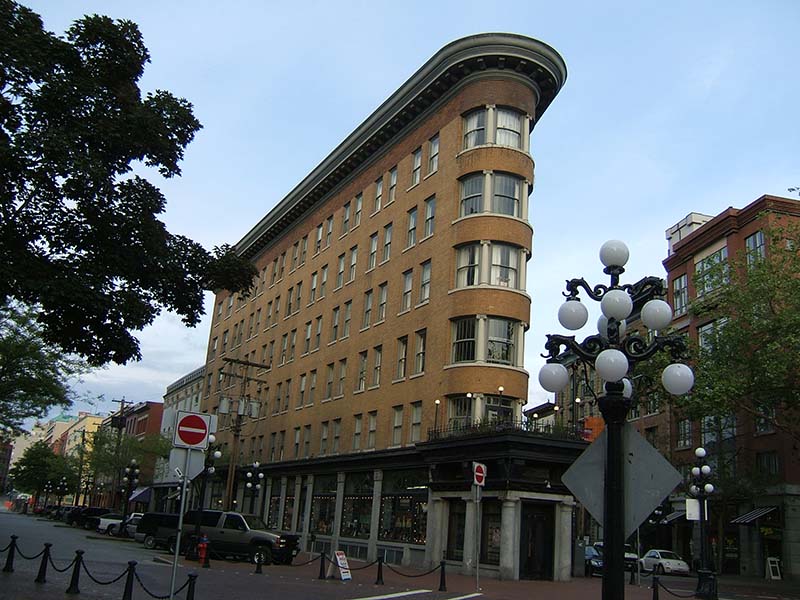 I'd walked past the place hundreds of times without knowing that so many people had been killed there. A block south of Maple Tree Square, Gaoler's Mews is one of the highlights of the Ghostly Gastown walking tour, led by Mark Thomson each Tuesday, Thursday and Saturday night.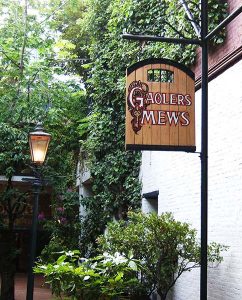 Gaoler's Mews, Mark explained, was the site of Vancouver's first jail, and public hangings were held there during the last quarter of the 19th century.
The first to be executed was Stakia, a Salish native (whose name translates as "wolf") who killed a man by splitting his head open with an axe. Stakia was captured, convicted of murder, and his life was ended by a hangman's noose in Gaoler's Mews.
Around the corner, at 217 Carrall Street, is the Irish Heather. Located on the site of Vancouver's first police station, the pub was described by Mark as "very haunted." Its washrooms were once jail cells, and patrons occasionally report hearing ghostly sounds of slamming doors and clattering chains.
Blood Alley, the tour's next stop, may have been named because of the many butcher shops once located there, but a lot of human blood was also shed on its cobblestones.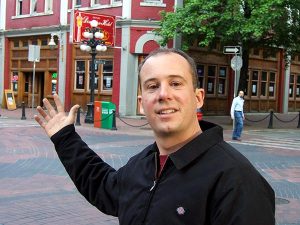 Blood Alley was a popular path for shipyard workers, returning to nearby hotels from the docks. And, especially on paydays, it was also a handy place for robbers to lurk with their knives ready, willing to cut the throats of anyone who didn't give up their money fast enough.
How true are Mark's ghost stories? Well, a member of one of Mark's groups, a clairvoyant, went into Blood Alley and immediately ran out again. He crossed the street and waited there until the group came back out. He said that the psychic energies in Blood Alley were too powerful for him, and he had to leave.
The five-block area along Cordova and Water Streets, from the old Canadian National Railway station to Maple Tree Square may include some of the most haunted real estate in Canada.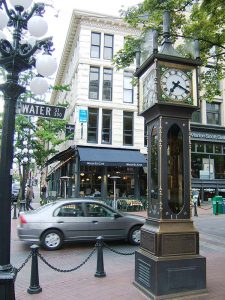 When Mark decided to create a walking tour of Gastown, he went into all the shops and asked the people who worked in them if they had ever had any supernatural experiences. Mark was surprised, not only by the number of paranormal happenings described, but also by the similarity of events.
Many ghosts are invisible, but a common trait of the ones that have been seen is a poor sense of fashion. Again and again, people reported seeing a peculiar man wearing out-of-date clothing, visible one moment and then suddenly gone.
A man wearing a bowler hat was observed in the hallway of the Bodega Hotel. At first the woman who saw him thought he seemed a bit strange, but when she watched him pass through a solid wall, she became so upset that she soon moved out of the building.
Another incident involved the manager of the card shop in the Hotel Europe, at 43 Powell Street. She was looking into a convex security mirror when she saw an eccentric looking man wearing strange clothes. She walked over for a closer look, but he'd vanished into thin air.
An invisible ghost may be the reason why one office has remained vacant for many years. Located directly across from the Steam Clock and above the Water Street Cafe, the top floor suite may look empty, but workers in offices next door say they often hear the sounds of furniture being moved and even the rattling of chains.
Nearby, in the Dominion Hotel, a night worker, cleaning up after the pub had closed, was startled when glasses, hanging above the bar, suddenly began swaying and clinking together. Then one of the glasses, hung in the air for an instant, and then crashed to the floor, as if it had been thrown by a poltergeist.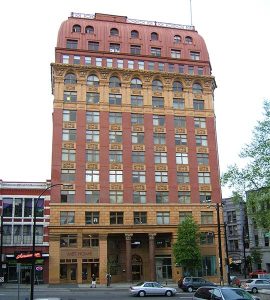 A security guard in the old Canadian National Railway station heard an unusual noise in a seldom-used store room. He went in to investigate but saw nothing unusual-until he turned around to leave. That's when he realized, to his terror, that all the desks in the room had been moved, blocking his access to the door.
Why does the Gastown area attract so many strange happenings? According to legend, Mark said, the area was cursed by First Nations spirits, angry at having their land taken away by European settlers.
But that theory doesn't seem to explain the haunting of the Dominion Building at 207 West Hastings Street. When it was built in 1909, it was the tallest in the British Empire, but today the 13-storey building is said to be haunted by the ghost of its architect who fell-or possibly threw himself-down the stairwell to his death during the opening celebrations.
Update: This article was originally published in October, 2006.
The Ghostly Gastown tour operated by Vanroutes since October, 2004, was no longer in operation when we checked in 2019.
Photos © Robert Scheer:
At Gastown's Hotel Europe, a card shop manager saw a ghost vanish into thin
air
Public hangings were held in Gaoler's Mews during the last quarter of the 19th century
A top floor suite across from the Gastown Steam Clock is said to be haunted by an invisible ghost
The Dominion Building