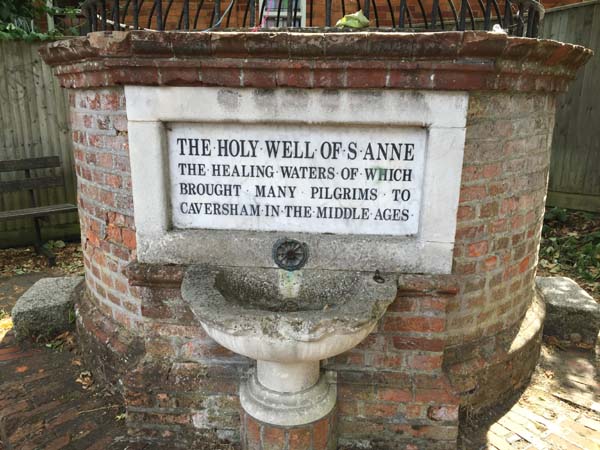 To the modern, rational mind, the idea of miraculous cures from holy wells sounds, at best, illogical. But with so many people claiming to have been healed by water, it's narrow-minded to ignore the evidence.
Henry Dorst is a Feng Shui practitioner who uses water energized at an energy vortex to make homes and offices healthier to live and work in. The power site is on Mount Baker in northwest Washington, near the British Columbia border. "I took a bottle of the water to a conference in Oregon I was speaking at," Henry said. "When some of the other speakers were tired, I gave them some water and told them to put a few drops on their forehead and between their eyes. They instantly felt refreshed and had more energy."
The most famous healing water is probably at Lourdes in France, where 2,500 healings have been claimed since 1858, with 65 of them recognized by the Roman Catholic church as "official miracles." But there are literally hundreds more holy wells in Europe credited with miraculous cures. There is a sacred fountain in the Breton town of Saint-Nicolas-des-Eaux where, it is said, if you dip a child in the water or soak its clothing, the child will be strong and safe from illnesses. In Nordenau, Germany, a reporter for the newspaper Bild investigated the spring water in an abandoned mine where pilgrims were going to be cured. After drinking some of the water himself, Guido Brandenburg reported that his fingertips were vibrating. He said "I felt as if an electric current flowed through me."
There are healing waters in North America as well. Manitou Lake in Watrous, Saskatchewan is said to have cured three Cree men of smallpox in the early 1800s. Today there is a luxury resort hotel and health spa on Manitou Lake, where guests enjoy the mineral-rich waters. It is sometimes referred to as "Canada's Dead Sea."
When Spanish explorers began visiting the Caribbean islands in the 15th century, they heard legends of a Fountain of Youth, for which Ponce de Leon went searching. Anthropologist Martin Gray believes he found the "fountain", but the fabled waters were actually only a metaphor for a therapeutic mineral or thermal spring. In an era when knowledge of medicine was limited and even an infected cut could be fatal, Gray says, a spring that could heal wounds and cure disease might be seen as a magical fountain that could prolong life. Gray heard about a slave in Jamaica in 1609 who was severely beaten by a cruel master. The slave escaped into the jungle, where he bathed in a hot mineral spring. A few days later, he returned to the plantation with his wounds healed. The amazed owner told the slave he would not be punished for running away if he revealed the location of the spring that healed him. Since that time, Bath Hot Springs in Jamaica has been a popular attraction.
When Gray visited Bath Hot Springs, he found an undeveloped springs where hot water gushes out of a rock cliff in the jungle a few hundred yards away from the hotel's pools. "It is very soothing to let the scalding water beat down on your head and back," Gray said. "When the heat begins to make you a bit dizzy you merely step a few feet away and slip into the cold mountain stream flowing from the foothills of nearby Blue Mountain." Gray spent several hours moving back and forth between the hot and cold waters, and he felt that a kind of terrestrial energy from the site was stimulating, strengthening and balancing the energy of his own body with therapeutic results, similar to the effects of Chinese acupuncture and Indian ayurvedic medicine. In essence, Earth energy can help the human body to heal itself.
It's not the water in wells and springs that is beneficial, but the energy the water contains. Just as water can absorb heat and cold, Henry Dorst's work has shown that water can absorb and store energy from power vortexes. Western science may not yet acknowledge this energy, but other cultures have known it for thousands of years. Chinese acupuncture and Qigong are based on the fact that there is a life force they call qi or chi. Hindu yogis refer to this force as prana. Even Hippocrates, the father of modern medicine, talked 2,000 years ago about nature having a healing force he named Vis Medicatrix Naturae. How long will it take for our scientific and medical establishments to admit that the answers to some of their most-asked questions may not be found in sterile laboratories but from ancient, moss-covered wells and mountain streams?
The above article was originally published in November, 2000. It has recently come to my attention that Mr. Henry Dorst passed away in 2007. Martin Gray's website is: https://sacredsites.com
Photo credit: Saint Anne Holy Well by Smuconlaw licensed under the Creative Commons Attribution-Share Alike 4.0 International license.

As an Amazon Associate I earn from qualifying purchases.