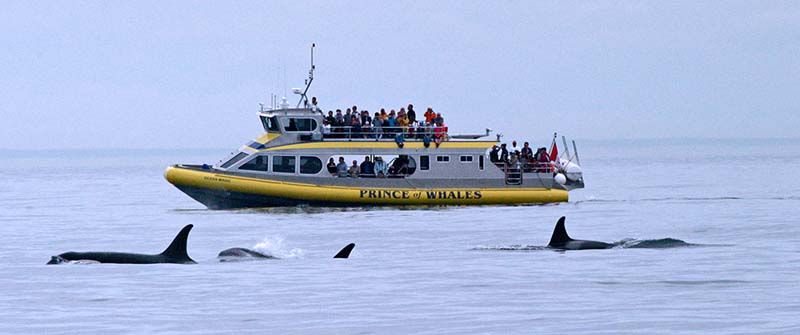 I gasped in amazement as three killer whales surfaced alongside our boat. Holding out my digital camera, I clicked the shutter, but the huge marine mammals were faster than my reflexes. The viewfinder image showed only black dorsal fins retreating under the water. I didn't have to wait long for more photo opportunities, though. There were orcas all around us.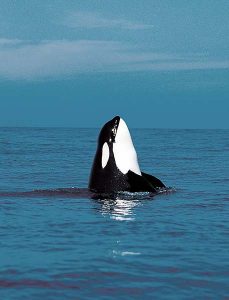 I was enjoying what must be the most fascinating way to travel from Vancouver to Victoria, aboard the Ocean Magic whale watching tour boat, operated by the Victoria-based Prince of Whales company.
We had left Vancouver harbour at 8:30 a.m. from alongside the SeaBus terminal. Now we were in the middle of the Georgia Strait, near the mouth of the Fraser River, encircled by more killer whales than I could count. Most of them surfaced only long enough to take a breath of air, but occasionally one would breach, leaping almost completely out of the water. There even were orcas spyhopping, poking their heads out of the water to look around.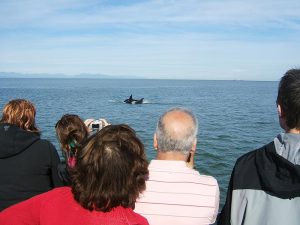 Earlier, one of the three naturalists on board told me whale-watching had been unusually good recently. One of three resident family groups of orcas, J pod, was known to be in the area. Now, as she matched the whales we were seeing with the identification pictures in her book, she announced that both J and K pods were here, a collection that probably numbered more than 40 orcas. But we were surrounded by more than just killer whales. Nearly a dozen other whale-watching boats had also gathered. Obviously, we were in the right place at the right time.
Up in the wheelhouse, the captain told me our locating the whales was not accidental. The boat is in constant radio communication with not only other whale-watching vessels but also fishing boats, all sharing information about the latest marine mammal sightings.
Regretfully, Ocean Magic had a timetable to maintain. We had been treated to 45 minutes of up-close orca observation, but finally it was time to get back on course. The captain pushed his twin throttles forward, and soon we were speeding through the Gulf Islands at 30 knots, pausing only briefly in Active Pass to see a bald eagle perched atop a cedar snag.
It was 12:30 p.m. when we tied up at the dock in Victoria Harbour. The crew members had offered recommendations such as where to get a good fish-and-chips lunch, and why the capitol city's most famous hotel does not necessarily serve the best "high tea."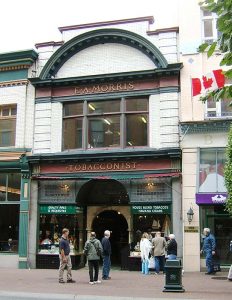 Just up the ramp from the dock is the Tourism Victoria Visitor Centre, where I picked up walking tour brochures with maps and descriptions of some of Victoria's most famous and infamous sites, such as a haunted tobacco shop and Canada's narrowest street, where Chinese opium dens once operated legally.
When signing up for my whale-watching cruise, I had opted to return to Vancouver on a Harbour Air floatplane, but Prince of Whales offers two other choices. You can sail back on Ocean Magic, which casts off at 3:30 and arrives in Vancouver at 7:30 p.m. Alternatively, you can spend three hours in Victoria and then visit Butchart Gardens on a Gray Line coach, which returns to Vancouver on a BC Ferry.
No matter what mode of travel you choose, Victoria offers an amazing variety of attractions, shops and restaurants that provide much more to see and do than can be crammed into the busiest of day trips. Here are a few suggestions: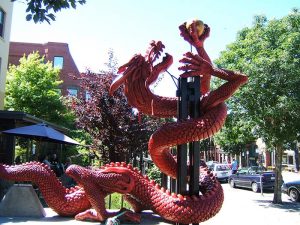 Explore North America's most intact old Chinatown. Stroll an easy six-blocks from the Inner Harbour to the ornate "Gate of Harmonious Interest."
Ride a bicycle rickshaw. If you get tired of walking, energetic pedicab operators will transport you all around town.
Shop for fine cigars. Morris Tobacconist shop, 1116 Government St., features "forbidden" Cuban stogies.
Sample award-winning beers. The brewpub at Swans Hotel, 506 Pandora Ave., was named Canada's "National Brewpub of the Year" in 2006.
Dine on fresh oysters. Ferris' Oyster Bar & Grill, 536 Yates St., is not on any tourist maps, but savvy locals give it rave reviews.
Taste historic chocolates. Rogers Chocolates, 913 Government St., has been making chocolates for over 120 years.
If you go:
The Prince of Whales Ocean Magic sails from downtown Vancouver to Victoria Harbour 7-days a week from June 1 to mid-September. Adult return fares from $199 to $239 include complimentary coffee and donuts. 1-888-383-4884 or www.princeofwhales.com.
Harbour Air has at least one flight per hour, and two flights during peak hours, throughout daylight hours only, between Victoria harbour and Vancouver harbour. Schedule and pricing details are at www.harbourair.com
About the photos:
The Ocean Magic whale watching boat surrounded by killer whales. Photo by Mark Malleson
Killer Whale spyhopping. Photo by Robert Scheer
Whale watching from the Prince of Whales photo by Robert Scheer
The "haunted" Morris tobacco shop in Victoria BC. Photo by Robert Scheer
A dragon sculpture in North America's most intact old Chinatown in Victoria. Photo by Robert Scheer
My Prince of Whales whale watching trip from Vancouver to Victoria and return airfare on Harbour Air was provided by Prince of Whales and Harbour Air. This article was originally published in April 29, 2008.