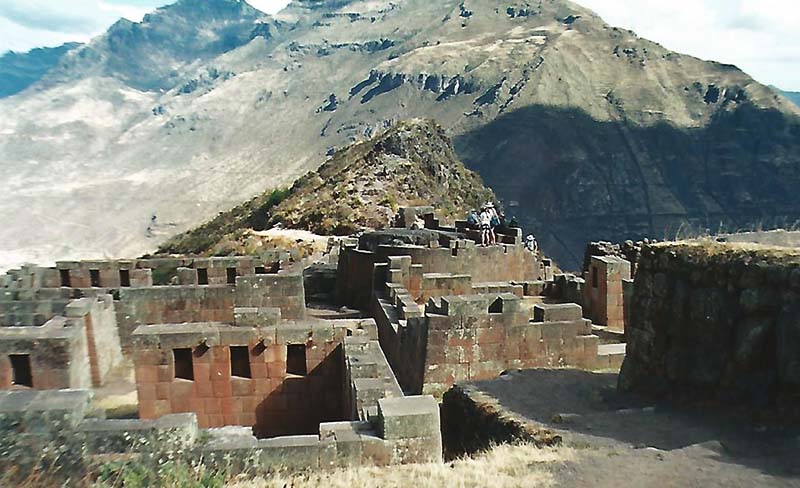 I would love to go back to Peru, but on my next trip I wouldn't necessarily return to Machu Picchu. The places that impressed me more than the "legendary lost city of the Incas" were actually much easier to get to. Ollantaytambo, Qenko and Sacsayhuaman are literally within walking distance of Cusco (although it's easier to take the bus) and Pisac is less than twenty miles away. Ollantaytambo, Qenko and Sacsayhuaman are profoundly powerful places I hope to tell you about some another time, but Pisac, in the Sacred Valley of the Urubamba, is unquestionably the most moving sacred place I've ever experienced.
My wife Mary and I were part of a group of ten touring the "Sacred Mysteries of Peru" for two weeks this past June. On the morning of our fourth day in Peru, as our private bus headed out of Cusco and into the countryside, the Cusqueñian guide pointed out the various crops growing in the fields; qiñoa, barley and several varieties of corn and potatoes. Some people were carrying armloads or bicycle baskets filled with long green leaves. We were told these were to feed the cuy or Peruvian guinea pigs, which many locals keep — not as pets, but to roast and eat on special occasions!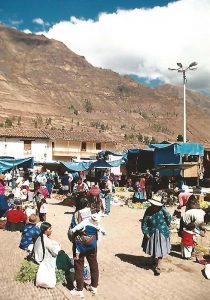 Pisac is the name of both the ancient Inca mountain-top "sky city" and the village below, on the northern bank of the Urubamba river. A market is set up in the village on Tuesday, Thursday and Sunday mornings. When we arrived a little before Noon on a Tuesday, we saw dozens of stalls with merchants selling blankets, ponchos, brass windchimes, ceramic bowls and other souvenirs. Some merchandise was laid out on rough tables, with more under blue plastic tarpaulin canopies. Fruit vendors sold oranges and melons from blankets spread on the ground. Around a corner and up a narrow street I discovered a bakery, a simple open-air space with a wood-fired adobe oven. There was a cuy squeaking cheerfully in a little pen nearby. A smiling woman in her early 30s was selling cheese-and-onion-filled empañadas. I bought four for two soles (less than $1.00),  gave away one and felt very comfortably stuffed after wolfing down the other three, still hot from the oven.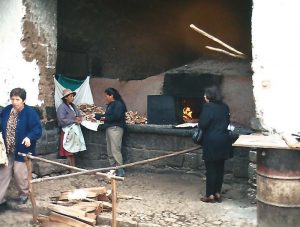 I was eager to see Pisac, so the wait for all my travelling companions to come back to the bus was a bit frustrating. To pass the time I bought an ocharina for one sol from a little boy, about ten years old, with jet-black hair and dusty bare feet. The small whistles, made of terra cotta and painted with llama, condor and geometric Inca patterns, are ubiquitous souvenirs in Peru. I put my fingers over the holes, blew, and — to everyone's amazement including myself — started playing the first several notes of El Condor Pasa! Eventually all ten of us, arms laden with shopping, were back on board, and our little bus began winding its way up the 1,800 foot climb to the other Pisac.
The Inca citadel at Pisac is one of Peru's most under-rated treasures. Its similarities to Machu Picchu are remarkable. The sanctuary is on top of a high hill, surrounded by even higher ones. A complex series of terraces surround a main temple at the top. Buildings made of large rectangular blocks of stone, which once had thatched roofs, are now open to the sky. During our half-day visit to Pisac we saw few other tourists. We essentially had the place to ourselves.
Connecting With Pachamama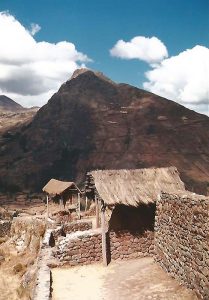 The air was crisp and the sunlight dazzling as we gathered in a courtyard at the entrance to the temple. With Inca stone walls, a thatched roof and a spectacular view across the Urubamba valley, the setting was inspirational for our ceremony. Andrea, our tour leader, held up a large condor feather she was given by a friend who had found it at Machu Picchu. In Inca spirituality there were three realms: the upper world or heaven, symbolized by the condor; the inner world, represented by the serpent; and Earth, the middle world, whose emblem is the puma. With Inti, the sun, warming us in the cool breeze, Andrea reminded us that the Earth Spirit is feminine. We know her as Mother Earth, but in Quechua, the language of the Inca people, she is called Pachamama. Our ceremony would help us connect more fully with her powerful feminine energies.
Mark, Andrea's partner, said a short prayer, invoking the spirits and asking them to bless our respectful visit to this sacred place. One at a time we stepped into the circle where Andrea whisked the condor feather around our chakras. Then those of us around the perimeter directed our energy toward our brother or sister in the center. When my turn came, I decided to do the "Planetary Acupuncture" technique I had learned from Martin Gray. As I first inhaled, I imagined I was taking in love and energy from the heavens into my heart. Then, as I first exhaled, I sent that love and energy from my heart down into the Earth. With my next breath, I took energy from the Earth into my heart and sent it up to the heavens. My third breath took into my heart the love and energy from both heaven and Earth and sent it out those around me.
Mark had told us that seven was a sacred number, and that many powerful ceremonies involve making seven sounds or breathing in and out seven times. Having done three breaths, I decided I would remain in the circle for four more. As I inhaled I imagined I was receiving the energy from my wife and the eight other friends who surrounded me, taking it into my heart and giving it back as I exhaled. Andrea had suggested we might request a blessing, so I asked the spirits for the ability to see. When I finished my seven breaths and was ready to go back to my place around the circle, I opened my eyes and saw a Peruvian hawk in the sky immediately in front of me. The large black and white bird flew above my head and disappeared in the direction we later would walk, toward the main temple. I wept with joy, knowing this sign was meant for me.
After the ceremony, we walked in silence along a narrow, gently hilly path for ten or fifteen minutes, stopping where Inca stone steps led down the edge of a steep hill. Across the gorge was a honeycomb of tombs, barely visible as shadows on the far hillside. We learned that these tombs had been ransacked long ago. I wondered what secrets were buried with the people who had lived in this amazing place before it was invaded and looted four and a half centuries ago. I took the water bottle out of my daypack, held it up in a toast to the ancient tombs and then poured a drink onto the earth before quenching my own thirst.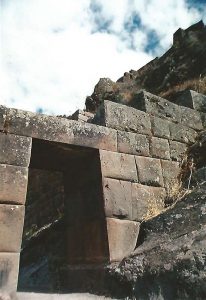 The walking became more difficult, but there were spectacular views of terraces used by the Incas to grow crops on the steep hillsides. Andrea told us we would soon be coming to the main portal, a stone doorway beyond which only priests and the Inka royal family were once allowed to pass. She suggested that we should go through thoughtfully, and with deep respect for the sacred space we were entering. When I arrived at the portal, I marveled at how the huge stones were precisely cut and fitted together, especially considering that the Incas didn't have metal tools. I grasped the huge stones flanking the doorway and silently pledged to be respectful. I felt honored to be able to enter a space once reserved for ancient nobility. Just as I stepped through to the other side, I saw the hawk again in the sky a short distance ahead. The spirits were still with me.
The route we followed was steep and narrow. Far below the Urubamba river cut between tall, brown hills. At one point the stone-lined pathway passed through a tunnel. Finally, at a bend in the trail, I could see the main temple stretching out below. It reminded me very much of pictures I'd seen of Machu Picchu — roofless stone buildings on a triangular, terraced plateau surrounded by mountains. At the highest point of the plateau an outcropping of bedrock was carved into an Intihuatana, a hitching post of the sun.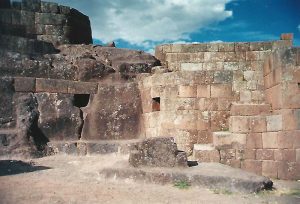 The afternoon grew even more windy and the shadows of clouds moves almost continuously across the distant hills. As I waited for the rest of the group to assemble, I saw a small carved stone on the ground in front of the Intihuatana. It was an Inca cross, with three steps, barely two feet high. I was drawn to it, fascinated. This tiny, simple sculpture seemed more profound to me than any of the magnificent nearby structures that dwarfed it.
When we were all ready, we wanted to perform our final ceremony around the Intihuatana, but ropes were strung in front of a doorway. We weren't supposed to go into the room, so we arranged ourselves on top of the walls, as close as we could get to the most sacred stone. Mark showed us how to fold our hands with our thumbs pressed together and, with thumbs pressed to our lips, say "OHHH" into our hands, and then spread our fingers open and raise the pitch of our sound, broadcasting "AHHH" out to the world. We chanted the name of the sun god, Inti, over and over for several minutes. Then we did seven of the "OH-AHs". Mark unwrapped a crystal bowl and gently, lovingly rang it as we meditated.
As I sat atop the ancient stone wall, in the clear air of the Sacred Valley, I felt surrounded by enormous forces. It was a feeling similar to what I would later experience at Machu Picchu, a sensation of being at the focal point of a profound, unfathomable system. It was no accident that an elaborate structure had been painstakingly created at this particular place. Even if the stones on the hilltop had not been sculpted into arcane shapes, even if no multi-ton blocks of stone had been stacked up to form walls, this place would still be sacred and powerful. The hills across the valley were all focused onto this spot. In the distance, even higher mountains looked down toward us. The Inca name for a mountain spirit is Apu, and at Pisac I learned the power of the Apus. It was like being nestled in the palm of an enormous hand which could easily crush me, but chose instead to nourish, inspire and love me! It was impossible not to feel how special the place was. I could see, even though I could not rationally understand it, that the Truth was here.
A Message From The Kumaras
When our meditation was over, there was another extraordinary event still to happen. Andrea Mikana-Pinkham is not only a tour leader and Reiki Grand Master, she is also a channel. She receives and transmits messages from unseen beings. She led our group across the courtyard and into a small room, to channel for us. We sat on the earth with our backs against huge Inca stones, and Andrea went into a meditative trance. When she raised her head, the voice with which she spoke was not her own. The voice said it was a representative of the Kumaras, ancient masters and teachers of unconditional love, one of whom we know as Jesus Christ. The Kumaras are from somewhere beyond Earth, and they have been guiding humans for thousands of years. We were told that a major upheaval on our planet will occur within five to ten years, but some of the changes leading up to this upheaval will be visible in two years. The voice of the Kumaras told us that were leaders who should set examples for others when we return home. The energy we gained in the Andes would help us and others deal with the changes which will come.
When we were able to ask questions, I asked for information about the Inca cross sculpture that had so attracted me. The Kumaras said it had been a kind of navigation beacon long ago, and I had been involved here, helping to make contact with visitors from Sirius and Venus. I was advised to touch the stone and align my energy with it. From time to time, we were told, when we visit a particular place and experience unexplained tingles or tears, it is the Kumaras speaking to us. The joy we feel is a sign of remembering a past connection.
A few drops of rain were falling as we made the half-hour walk from Pisac to our bus. The route back was not as steep and rugged as the way we came in. With the sun now behind clouds and the wind whipping through the valley, I wished I was wearing more than just a light jacket over a T-shirt. Walking along the trail, Mary opened her back pack and took out a windchime she'd bought at the market. Whenever it rings, we said, we'll remember the energy of the Apus in the winds of Pisac. I gave her a hug and said, "This has been the happiest day of my life!" Almost instantly, the black and white hawk appeared above the horizon. No sooner had I seen it than it flew away for the last time.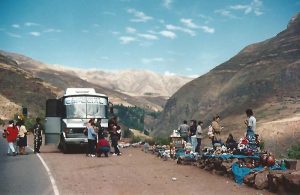 At the edge of the parking area were four souvenir "stands", nothing more than blankets on the ground with trinkets displayed on them. I bought six miniature ocharinas for five soles, less than nine cents each. One man was selling fruit. He had an orange squeezer, and plastic cups of fresh juice cost one sol. A young bull was wandering freely about. The man said it was two years old, but it was the size of a small horse, and probably weighed half a ton. He was feeding it orange peels. We had a bag with several fresh banana peels, and someone asked the man if it was all right to give them to the bull. He said it was OK, so I tossed banana peels to the young bull, who gobbled them up. Having lived all my life in the city, I was fascinated by the potentially dangerous creature who eagerly ate every banana peel I gave it.
While we were waiting for the last of our group to return, it started to rain heavily — almost like hail — for a minute or two. Suddenly the rain stopped and a double rainbow appeared, glowing brilliantly above the Sacred Valley. Surely this was a day filled with significant signs, if only I were wise enough to see what they meant.
On the drive back to Cusco I noticed something unusual about the houses alongside the road. Most of them were made of adobe, the local mud mixed with straw and formed into bricks. Many of them had thatched roofs, and on most of the roofs were decorations; some houses had crosses, some had a pair of bulls, and some had both crosses and bulls. When I asked our guide, he said that they were for protection or to bring good luck. The crosses, of course, were Christian and the bulls were Pagan symbols. Some families were Christian, some were Pagan and some figured it would be safer to hedge their bets with both!
Was it a coincidence that, on the day designed for us to connect with the Earth Mother spirit, Pachamama, I had a close encounter with the animal that symbolized something as important to the local natives as the cross was to Christians? Perhaps this was what it meant to connect with Nature. To understand the interconnectedness of life. To realize that all of us on Earth must help nourish each another. Perhaps, at Pisac, I was given a greater ability to see.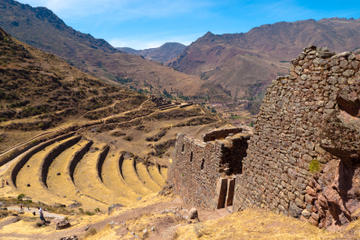 Sacred Valley, Pisac and Ollantaytambo Full-Day Tour from Cusco – $78.99
from: Viator
Photos by Robert Scheer