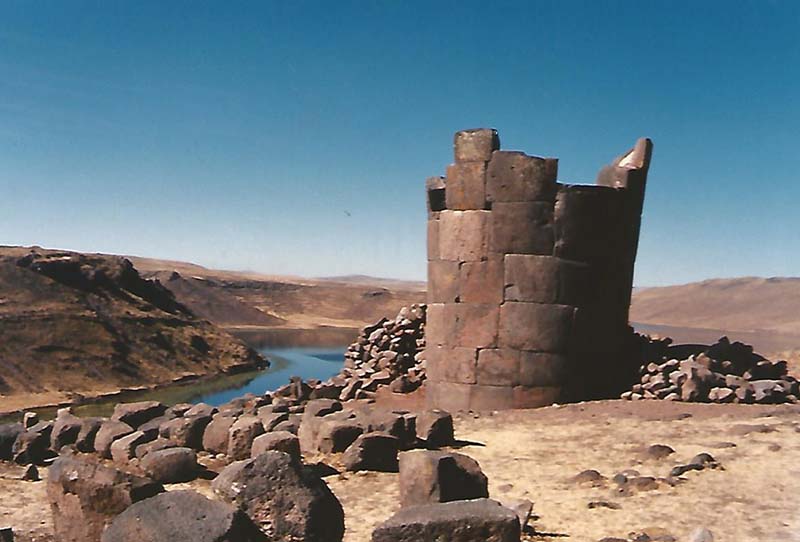 Can You Keep A Secret?
It's risky to write about little-known sacred places. I worry about bringing them to the attention of people who don't respect Mother Earth. Hordes of careless tourists have nearly loved Stonehenge to death, and I'd hate to see that happen to other sites. Already, the mystical atmosphere of two places near Sedona, Arizona is at risk from commercialization, as is Newgrange in Ireland. If a proposed cable car and luxury hotel development at Machu Picchu are not stopped, Peru's greatest Inca sanctuary may soon become an exclusive playground for the wealthy.
It's not a new phenomenon. During the Middle Ages, pilgrims to Jerusalem had to be warned against "chipping off fragments from the Holy Sepulchers." Today's vandals include not only hooligans who paint graffiti, climb over barriers and jump on top of fragile megaliths, but also well-meaning souls who bury foreign crystals, hoping to "heal the Earth" or light candles, not realizing that soot and wax are as harmful as spray-paint.
I share the following information in hope that the readers of this publication can be trusted to honor and respect Mother Earth's most precious treasures.
My closely-guarded secret place is Pisac, in Peru's Sacred Valley. It's hard to get to and the meager infrastructure can barely cope with the handful of tourists who now find there way there. But for me it was the most moving of all the sites I visited in Peru, including Machu Picchu.
The village of Pisac (or Pisaq) is about 20 miles northeast of Cusco, and the bus trip takes less than an hour. Markets are held in Pisac's main square on Sundays, Tuesdays and Thursdays, and those are the days when you're most likely to encounter other tourists at the Inca citadel high above the village. There are two routes up. One is on a rough, steep, narrow path, that takes about half an hour. The other is even steeper, rougher, longer and more scenic. As you hike up the grassy trail you may see a Andean hawks or condors soaring overhead. Looking across a steep gorge, you can see distant hillsides honeycombed with ancient Inca burial sites. Eventually, you arrive at a trapezoid-shaped arch whose massive stones were precisely cut and fitted together without mortar. Once only priests and the Inca royal family were allowed through this magnificent portal. Before going in, we paused for a moment, respectful of the sacred space we were entering.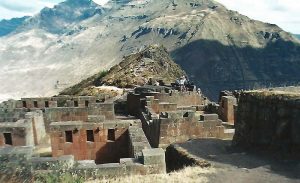 The narrow path continues with dramatic views down to the Urubamba river. After you pass through a small tunnel, the main temple area appears in the distance, a triangular, terraced plateau surrounded by even higher mountains. Beyond the complex of roofless stone buildings, an outcropping of bedrock is carved into an Intihuatana, a "hitching post of the sun." Pisac is much like a miniature Machu Picchu. As I sat near an ancient stone wall, in the clear air of the Sacred Valley, I began to understand why such an elaborate citadel had been built here. The Inca name for a mountain spirit is Apu, and at Pisac I felt the power of the Apus. No matter which direction I faced, each of the surrounding mountains seemed to be beaming its energy down toward the Intihuatana as if it were a satellite dish. Perhaps that's what it is, a kind of mystical link between the terrestrial and celestial forces, built more than five centuries ago. Whatever its purpose, in Pisac's highly charged atmosphere I felt as if I were nestled in the palm of an enormous hand which could easily crush me, but chose instead to nourish, inspire and love me!
If you travel to Pisac or any other sacred places, if you should feel moved to give thanks in a tangible way, please heed the advice of Britain's Save Our Sacred Sites organization. They suggest honoring ancient sites by picking up litter. If you must leave something behind, let it be a prayer of thanks.
This column was originally published in February, 2000. I wrote in greater detail about Pisac in Power Trips magazine, and I re-published it in this blog at: http://robertscheer.net/pisac-earth-mother-temple-in-perus-sacred-valley/
The photo at the top of the article is a picture I took in 1997 of one of the stone burial towers, known as chullpas, in the pre-Inca cemetery, Sillustani, located near Lake Umayo and Lake Titicaco not far from Puno, Peru. There are several chullpas in the area, and all have been quite badly damaged, probably by tomb robbers. An even more fascinating site, Aramu Muru's Portal, is only a short distance away.