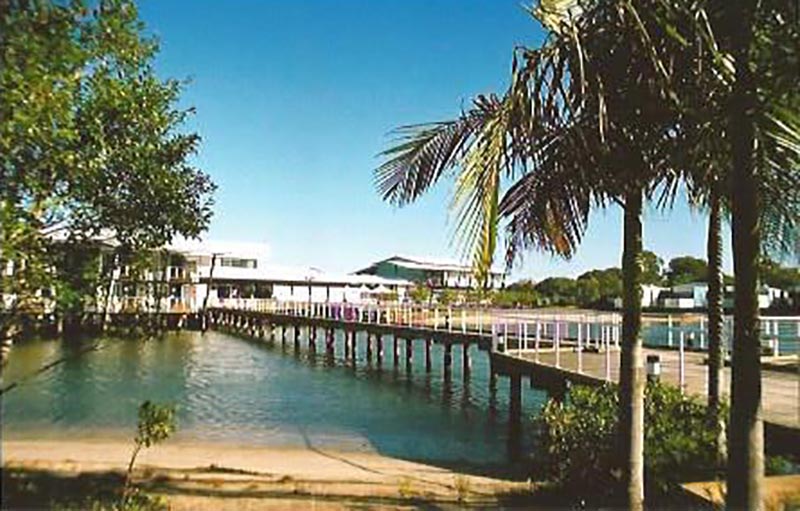 My trip to Queensland began with a Qantas flight from Los Angeles to Brisbane. The trip took nearly twelve hours, and I was very grateful to be seated up in Dreamtime Business Class, where I was treated like a king.
As a travel writer on assignments, I have been on several very long flights in regular economy class, including Houston to London, London to Nairobi, London to Mumbai, Toronto to Tel Aviv and Mexico City to Lima, and I know from painful experience that the extra comfort and amenities of Business Class become more worthwhile with every long hour spent in the plane.
An early check-in at the hotel had been arranged, so my companions and I could freshen up before heading out to discover the sights and start to experience the capital and most populous city of Queensland and the third largest in Australia. The accommodations were at the Conrad International Treasury Hotel and Casino, a grand old heritage building in the heart of Brisbane. The more than 100-year-old sandstone buildings were once the Land Administration and Treasury Building, and they were honoured with an Australia Heritage award after their restoration was done in 1995.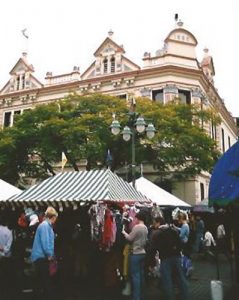 About a 10- minute walk from the Conrad was the North Quay Pontoon on Elizabeth Street, where we caught the City Cat Ferry for a fun ride to the Parklands on the South Bank of the Brisbane River, located on the site where the city hosted their World Expo in 1988. The 17-hectare site abounds with parklands, restaurants, arts and craft markets, a stall with a psychic and tarot card reader, a performing arts center and more. I bought a couple of colourful souvenir t-shirts at the Aboriginal Art Culture Craft Centre.
I enjoyed my first, but far from my last genuine Australian beer over lunch at the Plough Inn Tavern. The best-known beer brewed in Queensland is Four-Ex, and they spell it XXXX. This prompted the joke often repeated in the South of Australia that the XXXX spelling is because Queenslanders are too dumb to be able to spell BEER.
That's one of those jokes that is funnier when the person telling it has a broad Aussie accent. And it gets increasingly more hilarious depending on the number of beers you've had.
The Plough is a family owned Aussie pub and steakhouse that dates back to 1864, the time of the great Australian gold rush. We didn't stay for the live entertainment they have every night, as we had a date with some sheep, kangaroos, wombats and koalas.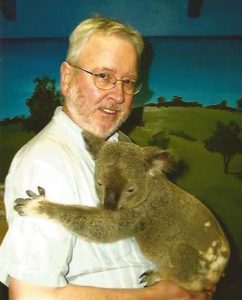 Our next stop was the Australian Woolshed on Samford road, where we enjoyed watching a sheep-shearing demonstration and learning about the various breeds and their uses. And the Woolshed is where that picture of me holding the Koala was taken. If you think koala bears are cute and cuddly, you are mistaken on several counts. First, they're not bears, they're marsupials, whose closest living relatives are wombats. And they may be cute at a distance, but up close they are far from cuddly. Mine had very sharp claws and, although his job was to pose for photos with tourists, I could tell that his heart just wasn't in it, and he was longing to go back up into his eucalyptus tree.
Dinner was at Il Centra Restaurant on Eagle Street Pier, an Italian inspired eatery that has been recognized for many years as one of the finest dining experiences in Brisbane, and their walls are covered with tourism awards, all well deserved. It was here that I learned about one of "Brizzie's" strangest sounding but most delectable dishes, Moreton Bay Bugs. They are sort of a cross between a lobster and a crayfish, and are officially known as Flathead Lobsters. However you enjoy lobster, that's most likely a great way to nosh on Moreton Bay Bugs, such as with garlic-infused drawn butter and crusty French bread.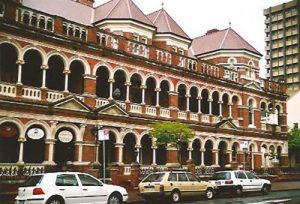 One of the best ways to appreciate the spirit of a city is to go on a walking tour with someone who is a native, an historian, and a gifted storyteller. Our guide, Brian Ogden, met all three of those criteria. As we strolled around on his historical walking tour, we learned highlights of Brisbane's history, from its inception in 1799 when it was a penal colony outpost for convicts, to the present era, and got a deeper appreciation for its heroes and villains.
We left Brisbane and made our way to the Gold Cost to check out the world's first hotel designed by the high fashion Versace empire. The Palazzo Versace is a 205-room luxury hotel and an architectural masterpiece, reflecting the opulent style and elegance of Gianni Versace, and it welcomed and pampered its first guests in August of 2000.
After a lunch fit for royalty, we proceeded to the nearby Marina Mirage for a Fastcat ferry ride to an utterly different world than the one we had just seen. On South Stradbroke Island, Couran Cove Island Resort is a holistic eco-resort that is such an outstanding experience it deserves its own special page on this blog. You can read about all my Couran Cove experiences by following this link.
It was hard to say goodbye to Couran Cove, but we had more exploring to do, so off we went on the launch back to the mainland and up into the mountains by motor coach to O'Reilly's Rainforest Guesthouse. We got there in time for lunch in the invigorating mountain air.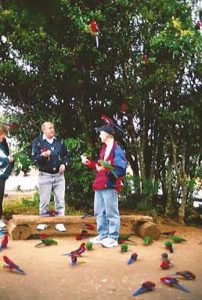 The O'Reilly family used to be dairy farmers, but in 1926 they decided to make a big change and transformed their farm home into a guesthouse. That was three generations ago, and today's O'Reillys are just as hospitable, and their love of nature's beauty is still strong.
The guesthouse is a Mecca for birders, as brightly feathered birds by the dozen are attracted to the feeders on the hilltop at this World Heritage-listed temperate rainforest. Among the rare species that can be seen are the Albert lyrebird, as well as king parrots, lorikeets, and several kinds of bowerbirds. Even if you're not into bird watching, if you are a nature lover you will enjoy the walks through the woods to waterfalls and lookouts. That evening we went to a cave-like grotto where we witnessed the spellbinding sight of magical glow-worms!
It was a bit of a long haul driving back down the mountain from O'Reilly's to the Brisbane airport for a short flight of about an hour to Cairns and Tropical North Queensland. I stayed that night at the Radisson Plaza Hotel in Cairns, and the next day, when I went for an early morning walk before breakfast, I was delighted by all the birds. The trees were alive with colourful and very noisy budgie-like critters singing their parts in the dawn chorus.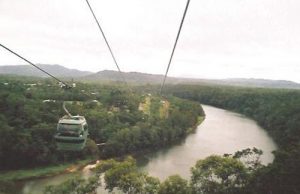 Our first adventure of the day was a ride on the longest gondola cable system in the world, the Skyrail to Kuranda Village. We sailed above the rainforest treetop canopy and had a spectacular view of Cairns, the ocean and the mountains.
On the way, we stopped at the CSIRO Interpretive Centre to learn about bush medicine, and to have a face-to-face encounter with two very fearsome-looking cassowary birds. It's a good thing they were on the other side of a strong, chain-link fence! Some cassowaries can be as tall as six-feet, and weigh close to 130 pounds. And those beaks look very sharp.
We had another stop for souvenir shopping at the Kuranda Trading Post before finally stopping at the Tjapukai Aboriginal Cultural Park. After a delicious lunch, we watched several shows. At the Creation Theatre, you can find out about the Tjapukai mythology that explains how the Earth was created. Then there was traditional dancing to the haunting growl of didgeridoos and a demonstration of aborigine spear-throwing.
That night, we made arrangements back at the Raddison to store some of our excess luggage, because we needed to travel very light in the four-wheel drive vehicle up into the Cape York Peninsula to Laura and Jowalbinna Bush Camp. On the way, we made a quick stop in Bundaberg at the rum distillery to pick up a bottle or two, just in case. Bundaberg rum is made from the sugar cane that grows in vast fields in north Queensland.
As we wound our way along increasingly more narrow and rugged roads, we learned the story of how some of the most ancient and magnificent native rock art galleries were "discovered." Although the Ang-Gnarra people have always known there were there since "Dreamtime" the first of the white colonists to find them was a very colourful character, Percy Trezice. Back in the 1950s, he was a bush pilot, carrying doctors on mercy flights to remote settlements. As he flew back and forth over the Laura River, Percy realized he was seeing groves of trees not native to the area. He eventually concluded that the trees had grown from fruit seeds brought in from more distant parts of the country. Curious, he decided to explore and ultimately was amazed to see what is most likely the largest body of rock art in the world. The paintings, made by the Ang-Gnarra people, are part of such a wonderful story, that I wrote another full blog post just about it. Click here to read more about Aboriginal Magic in the Land of the Quinkans.
I was honoured to get to meet Percy Trezice before he passed away in 2005. An artist, author and illustrator of many children's books, Percy was the leaseholder of the land on which we would be staying – the Jowalbinna Bush Camp. But on the way, we stopped at Percy's house and discovered he was obsessed with the idea there was a Thylacine living near his property.
More commonly known as a Tasmanian Tiger, the last Thylacine was commonly believed to have died in captivity in 1936 at the Hobart Zoo. But Percy thought otherwise. He had glimpsed a dog-looking creature with striped markings in the distance, and he showed us plaster casts of the footprints he had made. He said his detractors said it was only a wild dingo dog, but Percy showed us his pet dingo and said that, he may be old, but he still knows a dingo when he sees one. His theory was confirmed when a visiting student told him she had seen an animal that looked more like a Tasmanian Tiger than a dingo.
I like to think that, long after Percy's passing, there is still a Thylacine or two secretly lurking about in the forests of the Cape York Peninsula.
One final story I would like to relate about my stay at Jowalbinna came about after I was back home from Australia.
We had been camping in the bush where the only available water supply was the Laura River, and all the people associated with Jowalbinna assured us that the water was as clean and pure as could be, and there was no problem with drinking it right out of the river, which we did for three days.
But, nearly the moment I got home, I became violently ill with digestive issues so severe that I needed immediate medical treatment. The doctor said it was salmonella.
When I related the time line of when I left Queensland and flew home, he reassured me that it my illness could not have been caused by drinking Laura River water. It was much more likely that the culprit was a "king" cheeseburger I ate at a fast food chain kiosk at the International Terminal at Los Angeles Airport.